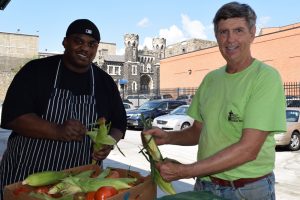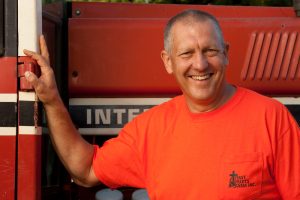 First Fruits Farms supports ODBEC to feed people in need.
It starts with the gift of fertile fields and plantings and ends with a feast for the eyes and tastebuds.
The lush fields of Freeland, Maryland are home to First Fruits Farm, a non-profit Christian ministry that donates all of its produce to feed the hungry, including those who receive meals at Our Daily Bread Employment Center.
On a hot August afternoon, Michael Holland, a Christopher Place graduate and a newly hired cook for ODBEC, joined Dennis Schmitt, a parishioner from St. Francis Xavier in Hunt Valley, Maryland, and a Board Member of First Fruits, to unload sacks of green beans, fresh corn, boxes of tomatoes and dozens of eggs into the kitchen.
This year, the Farm will harvest two million pounds of tomatoes, green beans, sweet corn, cabbage, carrots, apples, onions, potatoes, eggs and beef. All of the produce goes to large and small food banks and soup kitchens throughout Maryland and in surrounding states.
The Farm is the brainchild of Rick and Carol Bernstein who started it 20 years ago after Rick retired from a career in finance.
Initially, the Farm consisted of a third of an acre. It has grown to 200 acres on six different sites. The Farm is named after a Biblical reference calling upon all people to devote the "first fruits" to God and the poor. Just recently, the Archdiocese of Baltimore, which owns acreage in Sparks, Maryland, donated 25 acres and contributed $50,000 for supplies. That land was slated to be used as a Catholic cemetery, but Archbishop Lori wanted to provide the land to First Fruits to help the poor, according to the Office of the Archdiocese.
"Rick is an amazing guy," said Mr. Schmitt. "His farm brings like-minded people together to cultivate the earth and serve the poor."
The farm relies solely upon volunteers from religious and community organizations. "We're not farmers by trade," said Mr. Schmitt. He quoted Rick (Bernstein) as saying "God wants your availability, not necessarily your ability."