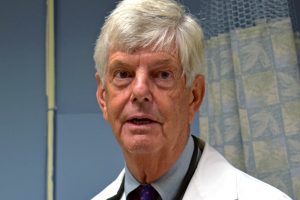 The men of Christopher Place Employment Academy (CPEA) are grateful recipients of Dr. James Tanneyhill's free dental care offered
 every Wednesday at Our Daily Bread Employment Center (ODBEC).
After years in private practice, 
Dr. Tanneyhill retired in 2012 and partnered with ODBEC, to provide his dental services free of charge to those less fortunate.
"I live my life in accordance to the Jesuit motto of 'Men for Others'," said Dr. Tanneyhill, a graduate of Loyola Blakefield High School and Loyola University.
During his weekly office hours, Dr. Tanneyhill greets his patients by name and gently relieves their pain by filling cavities, repairing cracked teeth, fitting them with partial dentures and removing decaying teeth. Once a month, cleanings are provided by a dental hygienist.
Dr. Tanneyhill donated all the equipment for the dental office and assisted ODBEC 
in obtaining a grant from Healthcare for the Homeless to purchase an
x-ray machine.
"His work transforms lives," said ODBEC Program Director, Penny Lewis. "Many of our Christopher Place men have lived for years with missing and decaying teeth. They are truly transformed when they receive this dental care. Their smile gives them the confidence to get their lives on track."
Dr. Tanneyhill and his wife, Karen, are members of St. John the Evangelist Long Green Valley in Hydes, Maryland. Through his parish, he volunteers with Baltimore for Haiti to bring dental care to St. John's sister parish in Haiti. He has traveled to Haiti more than 20 times.
In their free time, the Tanneyhills visit their adult children and grandchildren who live in Dublin, Ireland; San Francisco, California; and Greenville, South Carolina.
Perhaps because of his towering stature or his years in military service, Dr. Tanneyhill's family affectionately refers to him as Chief. But to his ODBEC patients, he's the capable and kind dentist who gives them the confidence to smile.