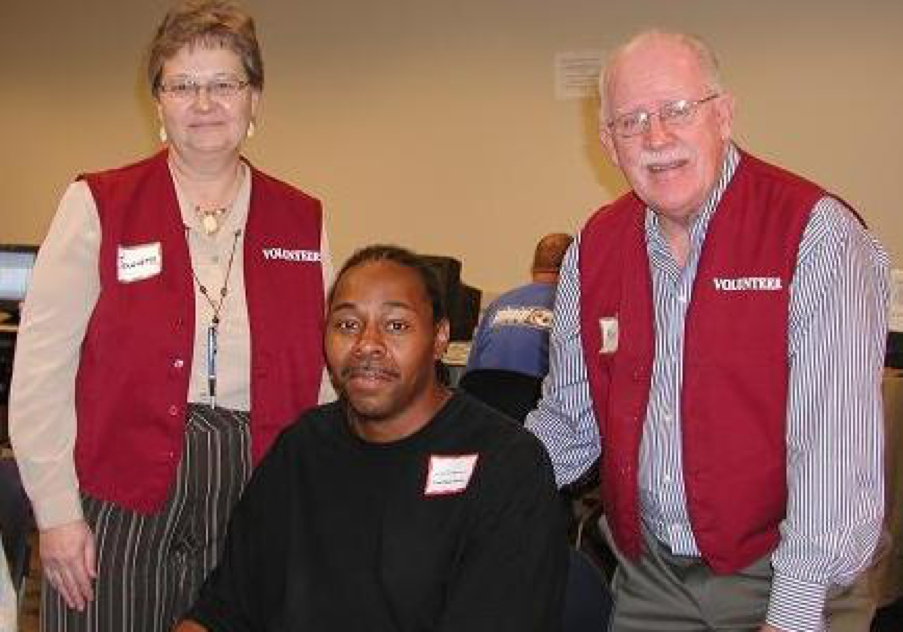 Down on his luck and barely getting by doing an assortment of side jobs for nearly two years, Ronald decided it was time to make a change in his life. When a friend recommended that the services available at the Our Daily Bread Employment Center would be able to help him find more stable employment, Ronald decided to come to see for himself all that ODBEC had to offer.
Now a regular attendee of Jobs Club, a group that meets every day at ODBEC to discuss available jobs in the area, Ronald has received assistance applying for jobs, writing a professional resume, and practicing his interview skills.  He particularly found the guidance, encouragement, and the practical assistance he needed with the help of a unique pair of volunteers. "The husband and wife combo on Wednesdays teamed up with me and helped me to prepare my resume. They are awesome," says Ronald of the time he has spent working with volunteers Michael and Jeannette.
"It is great helping people like Ronald work on their resumes. It can be difficult at first for people to know where to start, but once they start putting their lives and their experiences down on paper, it is almost like they are meeting themselves for the first time," said Employment Services volunteer Jeannette.
Catholic Charities' Employment Services operate out of the classrooms and computer lab at Our Daily Bread Employment Center. Ronald has taken full advantage of the available resources. With access to computers and internet, Ronald is able to not only perform job searches and develop his resume; he is also taking the opportunity to do research and write a business plan, complete with a portfolio of his secret barbeque recipes, for the grilling company he wishes to one day open. Ronald is motivated to find stable employment that will allow him to save enough money to one day build his dream grill and follow his passion of being a "Master Griller."
Ronald's regular work with volunteers and placement staff at ODBEC enabled him to establish his first professional interview in nearly two years, interviewing recently for a full-time position as a Mechanic and Driver for a trucking company. "What a perfect place to come," Ronald says of ODBEC. "Help is here. Resources are just pouring out. I have come to appreciate every little favor they might offer."
Ronald has fully utilized the resources available at the Our Daily Bread Employment Center and is moving towards more stable employment and following his dream of starting his own business. "Without a doubt I recommend this place," boldly proclaims Ronald.
To learn more about the Our Daily Bread Employment Center contact Dennis Murphy at (443) 986-9027 or dmurphy@cc-md.org.