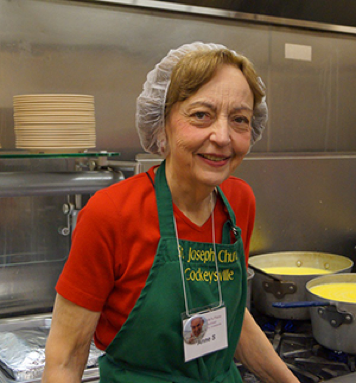 Anne Shelton
It's hard to match Anne Shelton's tenure as a volunteer; she's been a part of the Catholic Charities family for almost 35 years.
Anne's connection with Catholic Charities started in the early 1980s when she began doing volunteer work for the then newly-opened Our Daily Bread, and she later began helping to coordinate the casserole collection program for her parish, St. Joseph in Cockeysville. Parishioners from St. Joseph still send in around 100 casseroles each month, which provide about 1,000 meals to those in need.
While she still makes casseroles for Our Daily Bread, much of Anne's volunteer work these days is spent serving at My Sister's Place Women's Center. She also works actively as a founding member of Catholic Charities' Baltimore Women in Action, a philanthropic group of women supporting three programs of Catholic Charities – Our Daily Bread Employment Center, My Sister's Place Women's Center and St. Vincent's Villa.
Anne has been a regular fixture at My Sister's Place Women's Center since 2007 when the facility opened its doors. At My Sister's Place, she serves as the coordinator for a group of volunteers from St. Joseph that prepares and serves lunch on the third Tuesday of every month. Their signature meal is a favorite at My Sister's Place – meatloaf with gravy, mashed potatoes and corn. "Best of all is the homemade bread pudding," Anne said. "The smell just fills the building."
Service and faith are defining characteristics for Anne. In addition to her work with Catholic Charities, she also volunteers at Sarah's Hope, an emergency shelter operated by St. Vincent de Paul of Baltimore, and she stays very active at her parish. She serves on the Community Outreach Committee, tutors English as a Second Language, is part of Ranger Rosaries (a group that makes handmade rosaries for distribution to troops around the world) and serves as an Extraordinary Minister of the Eucharist – along with "other duties as assigned," she added with a smile.
"Anne is a model of compassion, a generous volunteer and donor," said Jackie Reid, the development and volunteer manager at My Sister's Place. "She is a long-time supporter, and she cares very deeply about the people who are served throughout Catholic Charities. Anne is simply an inspiration to all of us."
Faith underpins Anne's desire to serve. "My faith is everything to me," she said. "If I didn't have faith then I guess I wouldn't care as much about my fellow man. The reason I'm here is to share the gifts that God has given me."
As she talks about her years working in many of the programs of Catholic Charities, Anne relates stories of the people she has encountered. One moment that stands out in her memory occurred just after her first grandchild was born. "I was at serving at Our Daily Bread and I heard a baby cry. It just struck me that here I am with a nice home and there are people – babies – who don't even have a place to live," she said.
Anne gets somewhat embarrassed about receiving attention for her service and frequently steers the conversation to the contributions of others, especially the parishioners at St. Joseph. "No matter what we ask for, they always come through," she said. "Our parish has always been known for its commitment to reach out. If you ask our parishioners for anything, you'll get it."
Anne and her fellow volunteers proudly sport aprons with their parish name "St. Joseph Cockeysville" embroidered across the front and everyone wears a pin with a picture of Pope Francis and the words "Francis fever is contagious." "We keep it pinned to our nametags so we remember: 'always do more,'" she said.
She and her group take that message to heart, "always trying to do more". "You definitely can get tired, but you feel good getting tired if it's because of helping someone else," she said, adding with a laugh "the older you get, the more tired you get."
Anne is diligent about helping others in her group, especially more recent volunteers, to understand how important each person's contribution is. "There's so much that everyone can do. Everyone has talents," she said. "Plus, it's a lot of fun."
"The greatest thing about volunteerism," she added, "is that you're busy all the time, but you're busy doing what you want to be doing."