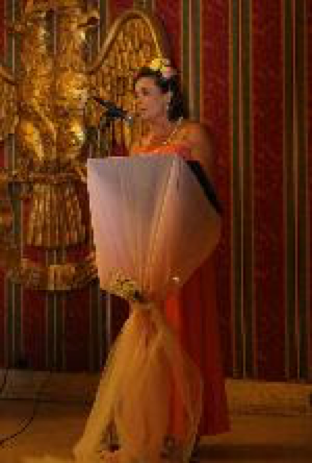 What happens when one person does one thing that impacts the lives of many? This year's MSPWC Woman of the Year, Monica Bradley, talked about the power of one in her presentation at Bridesmaids' BINGO. Here are a few examples of how Monica has seen the power of one person's actions have an impact and her challenge for each of you to also say, "YES":
• "One question by the Director of Missions at Church of the Nativity, Brian Crook – We are partnering with My Sister's Place – will you be our champion for this new relationship? One more "YES": and our church dove right in 2 ½ years ago.
• One invitation to fellow parishioners Pat Prewitt and Lisa Neagar to coordinate this strong response to serve and more people began their relationship with the center. "YES":
• One "YES": by friend and fellow parishioner JJ Beers to share coordination of this expanding relationship with me and sweet times of fellowship around a dining room table in an expanded old Baltimore row home began.
• One idea presented to Volunteer Coordinator Jackie Reid and Workshop Director Gwen Close about an idea for a Lenten Bible Study and a tighter bond with the ladies formed. "YES":
• One conversation with sweet Kim, a resident of the Lodge and kitchen intern, while we were plating food in the center's kitchen. "Ms. Monica would you lead a bible study at the Lodge? I would attend if you did." "YES":
"These are simple things: an invitation, an idea, a question, a conversation; things that anyone can do… My answer was "YES": to serve as God led and put opportunities in front of me. Those who I was able to put the opportunity in front of also said yes to serve which is the real Power of One – the ripple effect as we call it. The reason for my yes to serve is the biggest 'One' of all – The women themselves.
I am excited to see My Sister's Place Women's Center and Lodge continue to impact each individual woman who is served, which will in turn impact this city and give hope to many. I invite all of you to continue your relationship and service to the center or perhaps serve for the first time. We need your 'One' "YES": to this invitation."