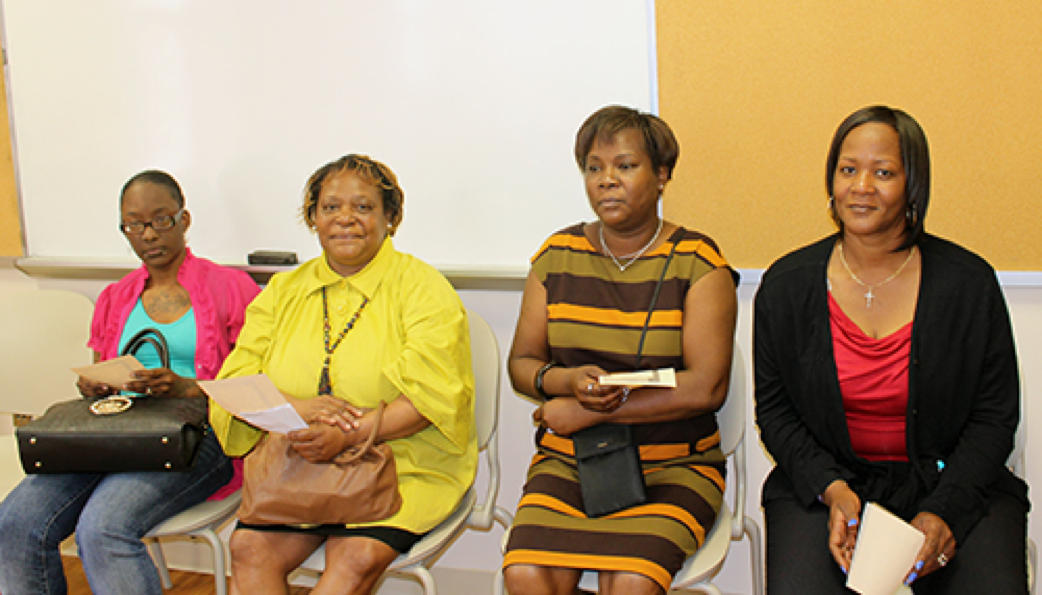 Last month, 5 ladies – Kim, Dornese (not pictured), Richie, Cortney and Twanda – received their graduation certificates from the Kitchen Internship Program. Kitchen Coordinator, Jerrie Olds, mentored the ladies through their 13-week internship working in the MSPWC commercial grade kitchen. They are now eligible to take the ServSafe exam to become certified as food service workers.
One of the interns from the previous class, Robyn, who received her ServSafe certification in May, shared her story. She found My Sister's Place Women's Center by accident when she was referred by another shelter. She made use of many of the services offered at MSPWC, including case management, doing her laundry, using the showers and day room and attending many workshops. She says the kitchen internship program was the key to finding a job. She now works at a commercial food service facility, giving technical support, taking orders and helping customers choose food. She works Monday through Thursday and continues to volunteer at MSPWC on Fridays.
Robyn is living at the Weinberg Housing and Resource Center while saving money to move into her own apartment. Her goals for the future are to continue to volunteer, sustain her independence and get a car.
"My Sister's Place is an excellent resource center and a great place to get started in the right direction and take that step forward," Robyn says of MSPWC.