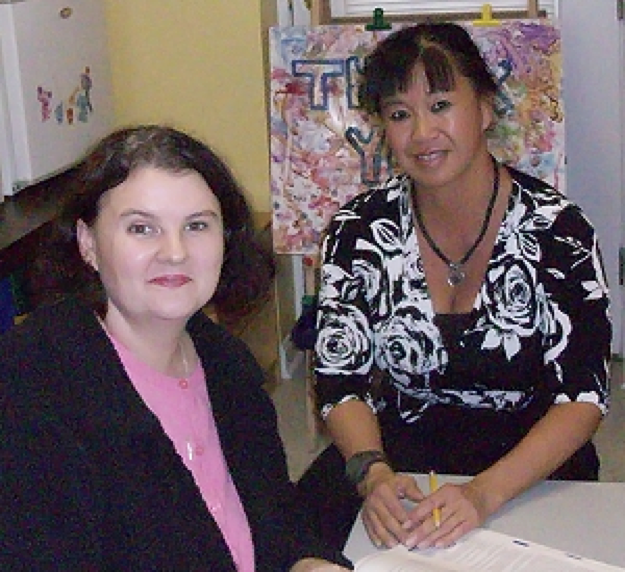 "We are all connected in this universe by God's love and the human spirit to reach out to others," says NyAnn Smith, a volunteer at Anna's House.
Blessed with loving adoptive parents, a great job, and wonderful friends, NyAnn had been looking for an opportunity to pay her blessings forward. So when NyAnn, an avid runner, received an email about a charity 5K race supporting Anna's House, she was inspired to learn more about the program, although she knew prior commitments would prevent her from participating in the race.
Through visiting Anna's House, NyAnn learned that there was a young woman named Lora living there who was preparing for her GED exam. NyAnn offered to work one-on-one with Lora to help her practice for the exam and the two have since become fast friends.
"Tutoring Lora and the friendship we have developed truly blesses my life. Our weekly tutoring sessions are the highlight of my otherwise packed work week and life," says NyAnn.
Lora echoes NyAnn's sentiment by pointing out, "NyAnn is one of the most inspirational people I have ever known. She is not just my GED teacher; she is like family to me."
Going beyond their time spent learning from books and GED practice materials, NyAnn and Lora also enjoy taking educational trips together and have visited places like the Science Center and Baltimore Aquarium.
"Naturally shy and an abusive past make Lora a bit tentative around other people, but working with NyAnn has really brought out Lora's southern charm and increased her confidence," says Cindy Hanley, volunteer and development manager at Anna's House.
"In the time that I have spent tutoring her, Lora has blossomed from a person with low confidence to a person with big dreams. She now not only wants to obtain her GED but also a college degree," praises NyAnn. "Persistence, determination and inspiration are just a few words I would use to describe Lora."
The special relationship the two have created has proved to be rewarding for both volunteer and client. "Lora is very grateful for the time I spend with her, but I am the one who should be grateful. She provides me with inspiration and reminds me of the human spirit. With God, persistence, focus and solid relationships, everything is possible," professes NyAnn.
For more information about volunteer opportunities with Anna's House, please contact Cindy Hanley at 410-803-1752 or chanley@cc-md.org.