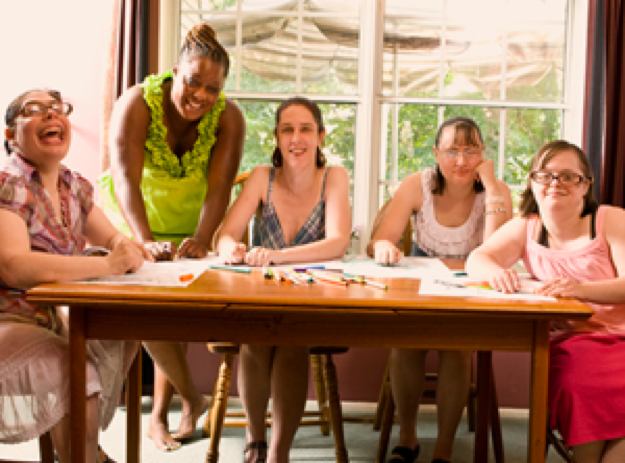 The women that live at the White Marsh Gallagher Services home enjoy spending time together and with their House Manager Buffy James (standing).
Laughter is often the sound heard resonating from the halls of this beautiful home. The four women, who live here, Courtney, Cheryl, Maureen and Tara, know how to have a good time, whether it's playing games, watching television, eating dinner or just enjoying each other's company. Having lived together for twenty years at Gallagher Services' White Marsh, they are all family to one another. When they aren't working at the Gallagher day program, they enjoy going to movies, restaurants, church and vacations together. According to House Manager, Buffy James, they are all like sisters and they look out for each other. "It's wonderful to see them interact with each other," she says.
Tara, one of the residents at the White March home, is full of life, laughter, joy and spunk. She has lived at Gallagher Services for more than twenty-five years. When asked if she enjoys living at the group home, she exclaims with a huge smile, "Yeah! I love it!"
Gallagher Services strives to provide high quality care to individuals with developmental disabilities. They do this by giving the residents opportunities for greater independence, that work towards building self-esteem, enhancing job skills, engaging in the community and meeting their individual needs. For the women at the White Marsh home, they have truly embraced that independence and blossomed with the help and support of Gallagher Services.