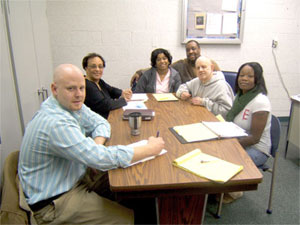 The story of Ricky Breitenbach, Gallagher Services client, as told by his cousin
Each week for the past 34 years, my Uncle Buck has driven with Aunt Mary to visit their son, Richard "Ricky" Breitenbach. For thirty-three of those years, they visited him at Rosewood. Since April of this year, they have been driving up from their home in Chester on the Eastern Shore to visit Ricky in his new home with Gallagher Services in Pasadena.
My first memories of my cousin, Ricky, were as a young child. He was seven years younger than me. We were mainly together at Breitenbach family gatherings where I would entertain him with his toys. He especially liked to collect little bottles and trinkets—anything he could hold up to the light. If he spotted something like the top of a percolator, it became a new treasure. However, the biggest part of my relationship with Ricky began when I was 12. That's when we use to go on day trips to Mr. Webb's cottage on the Magothy River. Mr. Webb was a family friend who grew up with our family in Baltimore Highlands.
When the Breitenbach clan gathered at Mr. Webb's, there would often be 40 of us. Ricky was always included in the fun. His greatest joy "down the shore" was swimming in the river or riding in the speedboat with me—the faster the better. His specialty was swimming underwater, where he must have broken some Olympic record staying underwater the longest. At least none of us could beat him at it.
Ricky lived at home with Uncle Buck and Aunt Mary until he turned 20, at which time he moved to Rosewood. During his early years there, he would come home for weekends and holidays. My daughters got to know him the best at family gatherings or when we would visit him at Rosewood. When my daughters were young, they were fascinated by Ricky's collection of bottles and toys and by the way that he would entertain himself. They were also pretty impressed by his fastidious table manners, which I never failed to call to their attention. I wanted them to know how much a part of our family Ricky was.
During those years, Uncle Buck and Aunt Mary were very involved volunteering at Rosewood in a variety of capacities: fundraising for the cottages, participating in the Citizens Advisory Committee and the Parents Auxiliary. Uncle Buck was Chair of the committee for a number of years and President of the Auxiliary for two terms. As Ricky's visits home became less frequent, his parents became even more involved at Rosewood working in the Canteen. Uncle Buck was the cook and Aunt Mary covered sales in the store.
Each of the changes in Ricky's life brought with it special challenges for him and his family, particularly the move to Rosewood 34 years ago, and the recent move to Gallagher Services in spring of 2006. However, these changes also brought new opportunities.
It had long been a dream of Uncle Buck's to move to the Eastern Shore. So, in 1991, he and Aunt Mary moved to Chester on Kent Island, which made for a long trip to visit Ricky each week. That's when we first started thinking about having Ricky live closer to their home, and I became very involved in the project. More recently, however, it was Uncle Buck who first heard about Gallagher Services from one of the other Rosewood families, and we began in earnest to make plans for the move. All-in-all, it took six months. Looking back, the time seems to have flown by. Although there were challenges along the way for Ricky and for us—what were we worried about?
Today, Ricky is enjoying life in his new home, where he has his own room, his own TV and a special place to keep his treasures. He's also gradually getting to know his housemates and is becoming involved in their weekly activities. On Wednesday evenings and Sunday mornings, he attends Lake Shore Baptist Church with them. During the week, he attends Opportunity Builders Inc. where he does assembly work and earns a paycheck. Aunt Mary and Uncle Buck are thrilled with the adjustment Ricky has made, as are we all. Although Ricky cannot put it into words, he nonetheless clearly communicates how much he likes his new family and his new home!
Sharon Welsh, Ricky's cousin