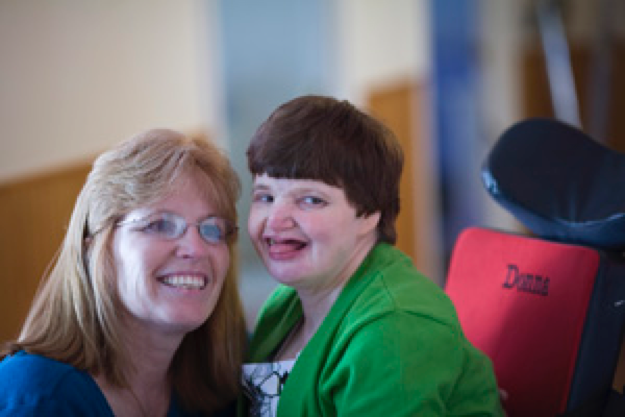 "A sister is one who reaches for your hand and touches your heart."
Donna is my older sister who lived at home with us in Brooklyn Park until she was seven-years-old. She had a seizure disorder and multiple disabilities, but she was my sister. I just didn't see that her disabilities were important, at least not to me. When we were children, I remember playing dolls with her. I also remember always taking up for her when other kids would make fun of her. I still have that same protective feeling about her today.
At seven years of age, Donna went to live at Rosewood, and I can remember that my mother and I would take three busses when we went to see her. That started a routine that continued through the years with visits of, on the average, at least once a month. When I was a teenager, my boyfriend would drive me out to Rosewood for my visits. He became part of that routine, and when he and I married, visits to see Donna became part of our family life.
Donna lived at Rosewood from 1962 until 2008, when she came to live at Gallagher Services. While at Rosewood, she attended the Gallagher Day Program in Timonium for a number of years, and I was impressed with the staff and the great care she received there. They always made me feel welcome whenever I stopped by. So when it came time for Donna to move from Rosewood, it was important to me that she live in a home and attend a day program with the same organization. I thought that would provide the best care for her. So that's how she came to live in one of Gallagher's homes with three other women. They all seem to be so well-suited to one another. It was a good match and I love the staff and their ranch-style house in the community. I also love all of the activities that Donna and her housemates get to do: movies, church on Sundays, Toby's Dinner Theater, the circus, trips to the park, Dave and Busters, the Timonium State Fair and Westminster Farm Museum. It's also great that I can stop by Donna's home at any time.
I'm still taking up for Donna. I'm her surrogate decision maker. My wishes are that she will always be well cared for. My family and I will always be part of her life in her new home with Gallagher Services. My daughter, Tammy, shares my protective feeling for her and will be her surrogate decision maker if anything should happen to me. I sleep very well these days knowing that "My Angel" is being well cared for at Gallagher Services, and I know that if there is a problem, I will get a call day or night.
Sheila Murphy, Donna's little sister