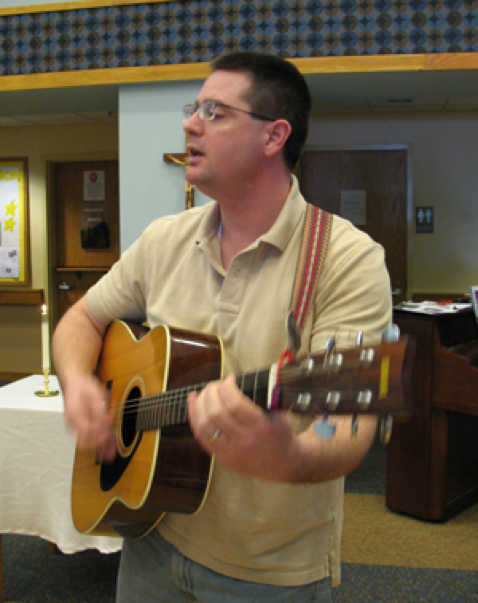 Worshiping and music ministry at Gallagher Services has truly been a blessing for my family and me. Participating at Gallagher has closely paralleled three key journeys in my life: the growth of my family, my love of music, and the development of my Catholic faith.
When Lisa and I first married, it was important to us to find a church where we could worship together. After trying several different churches and denominations, we chose the Catholic Church. She was raised Catholic and was pleased, and I was very interested in my new chosen church, grew to love it and soon converted. We looked for opportunities to serve and found Gallagher through the Catholic Charities website.
The time we spend with the residents and staff of Gallagher Services is a blessing for my children as well. My sons, Joshua and Charlie, have been delighted to take part in worship, and I'm sure, Alex (my youngest), will jump in soon. Joshua is in Sunday School classes at our home parish and he enjoys that, but he always cheers when he gets the opportunity to come to Gallagher for mass with Dad.
I was given my first guitar at age 18 and encouraged by my parents to learn and play–especially in the church setting. I was taught to play by a fellow parishioner and ended up joining the folk-gospel group that played in hospitals, rehab centers, and local churches. So, it seems like much of my teen years were spent training for the fun I have at Gallagher! I love to interact through the music with everyone at mass – to see the residents and staff spontaneously light up by dancing or singing along or playing their own instruments along with me (Robert and his guitar)! There are even residents who regularly stand to sing hymns with me up front–the Mighty Gallagher Singers (Susan and Julie)!
By giving me an opportunity to love and serve the Lord and to see the innate beauty of His creation in others, my experience at Gallagher Services has deepened my Catholic faith. By giving meaning to the words of prayer and scripture, all I can say is that worshipping at Gallagher "feels like church". Something happens inside me when I see someone else dancing and singing so joyfully, something that I wish I could better describe. Instead of my trying to describe it further, I invite you to join us and find out. Come and see!