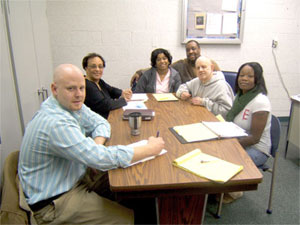 In 1996, Gale Capitol Fitzell was working as Sales and Marketing Manager for Ridge Lumber, a subcontractor for Harkins Builders, when she received an invitation from Dick Lombardo, Vice President with Harkins Builders and Chair of the Gallagher Golf Committee, to play in Gallagher's Annual Golf Tournament. Although she was not an experienced golfer, she thought it would be fun to play in the tournament, which, that year, was held at Towson Golf and Country Club. Gale teamed up with Bill Hauser, President of Ridge Lumber. Taking her commitment seriously, she also took lessons with John Albert, the pro at Hunt Valley Golf Club. After that, she called on a weekly basis to find out with whom she and Bill would be playing. Her persistence and commitment were harbingers of good things to come for Gallagher Services.
Following the tournament, Gale accepted an invitation to join the Golf Committee and has remained a member each year since. Her special area of responsibility has been coordinating the silent auction, raising over $84,000 for Gallagher Services in the past 12 tournaments.
Gale was also a member of the original group that created Gallagher Fest in 1997 to Celebrate Gallagher Services' 20th Anniversary. In 1999, she found time to chair the event and served as President of the Friends of Gallagher Committee. Gale says that what motivates her is the fact that the Gallagher individuals always appreciate whatever you do for them…"you get back more than you give!"
Gallagher Services has continuously opened doors to a fuller life for people with developmental disabilities for over 30 years. Gallagher has grown from a single residence for young adults to an array of programs for people of all ages. Today, the program provides services and support that meet each individual's needs in 45 homes and three-day programs located in Baltimore City, and Baltimore, Anne Arundel and Harford Counties.