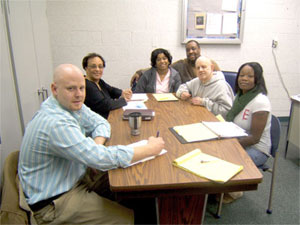 Every blade of grass has an angel hovering over it whispering, "Grow, grow!" – The Talmud
The experience I have had at Gallagher over the past year has been one-of-a-kind. I had been working in the green industry for twelve years and was looking for a new challenge to tackle. So I left my job at Babikow Greenhouses and started looking around for other opportunities. While searching the Internet one afternoon, I came across a Catholic Charities ad for a Greenhouse Coordinator. I leaned over my computer and read the specs. My curiosity sparked. I had a special feeling about this one, so I scribbled down the address and contact person and got in my car and drove to 2520 Pot Spring Road. I had lived 5 miles from Gallagher most of my life and had not known it was there. I pulled into the driveway and took a loop around the property, checking out the greenhouse on my way. I inquired at the front desk about the position and was lucky enough to catch Director Brian Trees who asked me a few questions and set up a formal interview for a week later. Back in my car, my mind was reeling on the likelihood of this position. Was I qualified? Was I ready? It would be like nothing I had ever done before. Two interviews and a physical later, I got the job!
I started out with feelings of apprehension towards this new challenge, so I dove in and studied the individuals' master files and attended employee training classes to learn more about the people I was going to be working with. This information proved to be a very valuable starting point, but the real experience was to come. Next, I set out to get to know the Shamrock Gardens Greenhouse Crew. Ms Jeanne Marie Hannon, as she introduces herself to any newcomer, was no doubt the official spokesperson of the group. After I spent some time with Jeanne, my apprehensions faded. She was able to help me learn more about the members of the crew than anything that had been written in a file. Every member of the group had something to tell me about how things were done. Taryn was the instinctive team captain, rallying the troops to "do your work." Scott was our eager volunteer greeter and resident socialite. Daryl was the silent, diligent hard worker. Jenny, our part time member, was open to try any new task. Linda turned out to be our assembly line guru, and Renee did not talk much, but through her I learned to communicate in the style she was accustomed to—sign language.
The next order of business was to begin to construct a horticulture program. In kicking around ideas with Brian Trees, I realized that we needed to combine the good practice of the green industry with meaningful experiences for the individuals. At the same time, we needed to make a product to sell to the community. I wanted my team to gain as much experience as possible in this training ground for their future employment and personal growth. I realized I was going to be able to put all of my past experience working with retail garden centers, wholesale greenhouses, landscapers and private gardens to work for the program.
It was now the end of January. The greenhouse was cold and empty, and our job was to give it life. We turned up the heat, swept the floors and started ordering. We ordered 50 bales of Sunshine mix, a soil fit for seedlings, and boxes and boxes of black plastic pots and flats in all shapes and sizes. The plants for the first season had been ordered in November. They included petunias, impatiens, geranium, Russian sage, blue fescue grass, black-eyed Susans and many more. Over the next several weeks, we planted 400 assorted hanging baskets, 500 gallons of perennials and over 10,000 4-inch annuals—all in anticipation of our two day Mother's Day sale.
By the first week in May, the greenhouse was a blaze of color. The reds, pinks, blues and yellows illuminated the 4200 sq. ft. greenhouse. Shamrock Gardens was beaming and ready for unveiling. The spring sale went off without a hitch—a success! But all I could think of was what more we could do next year!
By the end of June, the plants were gone and our focus changed to our vegetable garden, market days and planning for the fall festival. As always, a well-deserved rest comes this time of year for the horticulturist. The heat of the summer slows the spring activity to allow for some summer fun. Ours was no different. We took advantage of this by taking trips to Belvedere Farms to see the animals and harvest fresh eggs. We made delicious snacks like fresh salsa and watermelon salad from our organic tomatoes and herbs. We had a picnic with twenty volunteers at Loch Raven Reservoir where we played a thrilling game of Duck Duck Goose. And we did a good bit of socializing with our friends at the Day Program at the Forth of July Cookout, Hawaiian Luau and Special Olympics Day. We also added Art Therapy and Reading Classes to our weekly schedule. When all was said and done, it was a summer packed with positive new experiences for everyone.
Autumn began to set in and we were back in the greenhouse tending to our fall crop of pansies and perennials. Typically the horticulture program included a Christmas planting of poinsettias, but this year, we decided to do a Fall Festival complete with apple cider and "pick your own pumpkins" from Belvedere Farms. The start of the holiday season arrived and so did a new greenhouse member. Sandy had been working in the warehouse putting together contract work and was asked if she would like to join the greenhouse crew. Knowing that her best friend, Renee, was enjoying her greenhouse experience, Sandy energetically answered back with a resounding "Yea!" The greenhouse crew was now eight strong. And as we prepared for the winter season, the vegetable garden was cut back and raked out, our shovels, hoes and gardening gloves were stored away and the greenhouse was once again emptied and dormant.
The winter months found us repainting sale signage, repotting our indoor plants, and planning what goodies to order for the 2008 season. As the New Year began, I was able to reflect on my twelve month Gallagher journey. Getting to know, work with and learn from the individuals and staff at Gallagher has been the perfect combination of my love of horticulture and my desire for a rewarding change.
Cindy Ryan, Greenhouse Coordinator