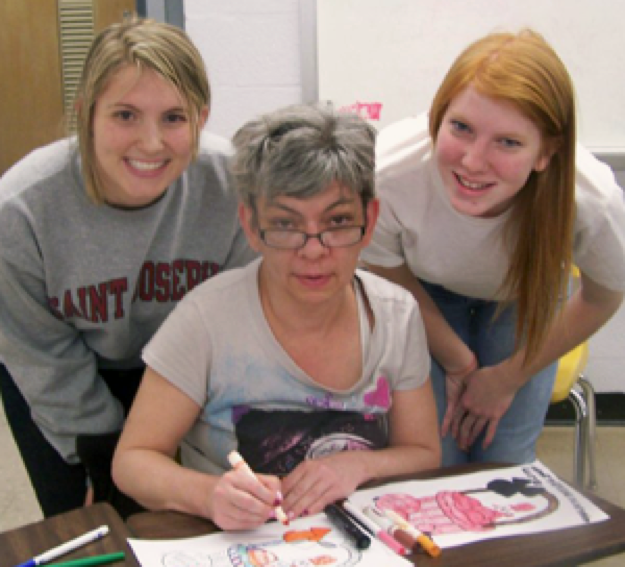 For many years, the young women at Maryvale Preparatory School have been building relationships that go beyond the classroom and their peers to include the residents of Gallagher Services. The girls are discovering more about service, volunteering and the joy that can be found in making new friends through their special relationship with Gallagher Services.
Many area schools, including Maryvale, share their time and friendship by making personal weekly visits to individuals with developmental disabilities during the "Special Friends" program. The students of Maryvale have decided to take the relationships with their new friends one step further.
Enjoying their time spent visiting the Gallagher Services residents at their homes so much, Natalie Ridgeley (class of 2010) and Campus Ministry teacher and Christian Service Coordinator, Mike Vogrin, had an idea. The Gallagher residents were gracious enough to invite the students into their homes; the students should in turn invite the Gallagher Services residents to the Maryvale campus to experience and enjoy some of their school's activities. In the fall of 2009, the girls of Maryvale created new outside adventures for the residents through what they call the "Friend to Friend" program.
Twice a month, 6 to 11 Gallagher Services residents travel to Maryvale to spend time with a group of student volunteers. Whether it is a basketball game, dress rehearsal for the school play, walking in the garden or an Easter egg hunt, Maryvale students are eagerly waiting at the school door for the Gallagher Services vans to arrive with the residents. Representing all the various high school grades, the students greet the individuals with happy faces and usher them into the school. Under the supervision of Mike Vogrin and two dedicated teachers, Carol Malone and Betty Coyle, the Gallagher Services residents are immersed in Maryvale school life and activities.
For this 2010-2011 school year, Caroline Brink and Colleen Curry are the senior student leaders who have stepped up to the plate in planning activities for their Gallagher friends. They invite new students to participate in each event, but often, familiar faces return again and again. With each visit. the senior leaders make sure a warm and happy spirit welcomes the Gallagher residents. Doing a crossword puzzle, the Hokie Pokie and taking a walk in the garden are always more fun when you have a friend to share it with you.
Maryvale students and the school's partnership in this "Friend to Friend" endeavor has truly allowed the students to open up their hearts, arms and high school lives to their Gallagher friends. At the end of each visit, the Maryvale ladies make sure all of the residents are safely in the van, and as they wave goodbye, the same predictable question is heard from inside the van–"When are we coming back?"
For more information about volunteer opportunities with Gallagher Services, contact Cathi House, 410-252-4005 x110 or chouse@cc-md.org.