When asked about his new apartment at Basilica Place, a Catholic Charities Senior Community in downtown Baltimore, Paul Schubert's face lit up. "It's like a palace," he said.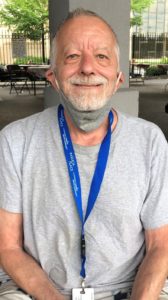 The 64-year-old had spent years living in shelters or abandoned spaces before receiving the keys to his new place. A New York native, he lived in other parts of the country before coming to Maryland with two cousins. He was working in a liquor store in Jessup, Maryland, when he began experiencing homelessness for the first time. He found his way to Sarah's House, Catholic Charities' supportive housing program in Anne Arundel County, where he stayed as long as he could, but after moving out, he eventually found himself again without a place to live.
In 2019, he developed pneumonia, and doctors found that he needed open-heart surgery for a valve replacement.
"He was living in an abandoned building in Glen Burnie. That's how he got sick – from living in those conditions," said Teresa Mack, a case manager at the Weinberg Housing and Resource Center, where Schubert came after his surgery.
"The doctor who did the surgery at Union Memorial was not happy with me going back to being homeless," Schubert said. "And I've been grateful to have the shelter."
Step by step
When Schubert arrived, Teresa began the step-by-step process of determining what supports he might need. Like many people experiencing homelessness, for example, he lacked identification, so Teresa helped him assemble documents – a Social Security card, a birth certificate, a Maryland identification card – that allowed him to apply for benefits. ("This was back in the day when everything was open!" Teresa said about the government offices, which closed during the COVID-19 pandemic.)
In April 2020, the Weinberg Housing and Resource Center closed because of the pandemic, and residents moved into local hotels. That's where Schubert spent 14 months before finding his new home at Basilica Place in late May.
"I'll live there as long as they'll have me," he said of the rent-assisted apartments, which offer a range of amenities. "They've got everything I need."
Keeping people in their own homes is the objective, said Sue DeSantis, administrator in Catholic Charities' Community Services division.
"The goal is to head home. Shelter is a stop along the way to get to that next place," she said.
Teresa said she still checks in with Schubert to make sure he is comfortably settling in.
"It feels so rewarding when the client reaches his goal of ending his experience of homelessness," she said.