As Maryland's farm stands began offering fresh local produce this year, so did Anna's House. Thanks to a donation from a Harford County farm, the program's pantry will teem with fruits and vegetables every Thursday throughout this year's growing season, providing fresh options for families staying on site.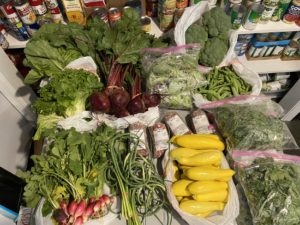 "Just being able to offer fresh produce – it's something I've been wanting and working for over years," said Volunteer Manager Jennifer Crosson. "We get a lot of canned food … we don't usually get donations of fresh fruits and vegetables."
Brad's Farm Market, based in Churchville, Md., offered earlier this year to provide Anna's House with five shares from its Community Supported Agriculture (CSA) program. CSAs allow people to support local growers by purchasing a share of the farm's produce in advance, typically at the start of the growing season. CSA members can then pick up fresh-picked fruits and vegetables weekly.
As customers sign up for the Brad's Farm Market CSA, they can choose to add to their total to support local families in need.
"Our CSA members can donate as much as they want – $5, $10. One person even gave a full share for $500," said Karin Milton, who owns the farming operation with her husband, Brad.
In the past, the farm used those donations to give CSA shares to families identified by schools in the community, but some of those shares ended up unused. When Crosson contacted the Miltons this spring to ask about donating a gift certificate to an Anna's House fundraiser, Milton said they decided to donate the shares directly to the program.
"They seem thrilled with it, and it's great – it's what we wanted," she said.
Piles of produce
As a result of the generosity of the farm and its CSA members, the Anna's House pantry will offer piles of strawberries, spinach, sugar snap peas, corn, watermelons and more throughout the growing season, which runs from mid-May to mid-October.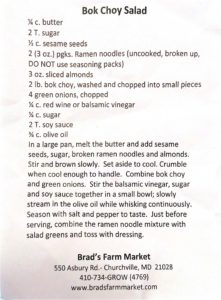 The CSA also provides recipe cards, which Crosson sets out with the produce to give residents new ideas on how to prepare the harvest. By Friday morning, there is typically very little left, she said, adding, "They even take stuff like bok choy!"
Anna's House provides a broad array of services – including emergency shelter, transitional housing and community supportive housing – to families experiencing homelessness. The pantry is open to anyone within the program.
Milton said she and her husband plan to continue donating CSA shares to Anna's House in future years.