Two and a half years ago, after fire in a neighboring building devastated the Esperanza Center, Catholic Charities scrambled to relocate many of its services. The program found space for its medical clinic while the center underwent remediation and renovations, but the dental clinic was forced to close – until now.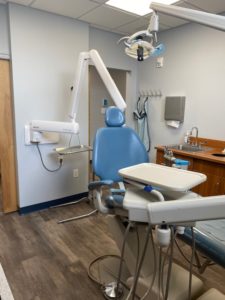 In late May, Esperanza began seeing dental patients again, testing out newly renovated space and upgraded equipment assembled through grants and donations. The goal, said Katie Phillips, the center's health services manager, is to "work out the kinks," then recruit a cadre of volunteer dentists who can help respond to a backlog of needs within the population that Esperanza serves – uninsured immigrants who do not qualify for government-sponsored health insurance.
"The vast majority of our patients have never seen a dentist in their entire lives, so the needs are huge," she said. "We're doing a lot of extractions, a lot of implants and a lot of dentures."
Clinic upgrades
Before September 2018, the clinic ran on "ancient" devices, such as a donated X-ray machine that used film that had to be developed in a dark room, Phillips said. When the fire destroyed the clinic – including tens of thousands of dollars of specialty dental equipment – staff saw an opportunity to modernize.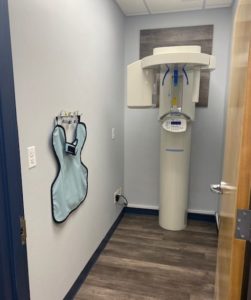 They turned to Dental Director Kevin Murphy, a local dentist who had just begun volunteering his time, for guidance on the type of equipment needed, and to donors and supporters to fill those needs. CareFirst provided a grant that enabled the purchase of digital panoramic and bitewing X-ray equipment. Johns Hopkins donated an autoclave to sterilize tools and advised on extra precautions necessary in the clinic because of COVID-19.
The upgrades are not only good for patients. They may also help recruit volunteer dentists, allowing the clinic to respond to more local need.
"It will make the dentists feel more comfortable because it will really resemble what they are used to in private practice," said Murphy, who started at Esperanza after hearing about the clinic through friends who had volunteered there in the past. "We are really blessed because the equipment is very up to date. … This is really a top notch dental clinic now."
Phased approach
As dental services ramp up, the first patients will be those who – as described in health surveys or during visits to Esperanza's medical clinic – are in pain. Murphy said more than 80 people currently fall in this category, and many of these early appointments will likely include extractions and root canals to treat infections that can affect systemic health.
As more dentists come on board, the clinic will be able to provide routine treatments, such as filling cavities or fitting dentures. A third phase would include preventative care, potentially allowing dentists to begin treating children as well.
Relaunching the clinic has taken months of careful preparation and planning, said Matthew Dolamore, director of the Esperanza Center, commending the work of the team.
"We are excited to be offering this service to the community again after 31 months of closure," he said.