If you missed the captivating Stoop Storytelling Series about behavioral health challenges and treatment, which was sponsored in part by Catholic Charities, then we are sorry because it was fantastic. However, you are in luck because it was recorded.
Click the link to WATCH and LISTEN to the stories and the panel's sage observations
"We need to tell our stories, and to listen to the stories of others," said Joe O'Leary, medical director for Center for Family Services, St. Vincent's Villa, Pot Spring Residential Treatment Center Direct Care. "Until we can speak as comfortably about our substance use disorder or our major depressive disorder as we can about other health problems, people will continue to suffer and even die."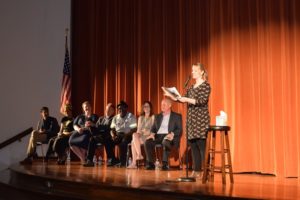 Listen to the Stoop Storytellers including Latesha Higgs, Founder/President of The DIVA Effect, Inc. and a Baltimore City Public School teacher; Mary Curtin, Teacher; Andy Parsley, School Administrator /Director of Education; Michael Teitelbaum, President, Baltimore Magazine; Theo Hill, Truck driver, substance use counselor and host of One Day at a Time podcast; Vijayasundaram Ramasamy, Special Assistant for Trauma and Telemedicine at the Baltimore City Health Department; Alexandra Wykowski, Clinical Services coordinator.
Baltimore City Health Commissioner Letitia Dzirasa, M.D., delivered opening remarks.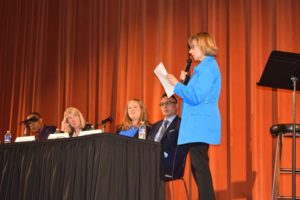 Panel moderator was Sheilah Kast, host of WYPR's On the Record.
Panelists were: Kay Jamison, M.A., Ph.D. Co-Director, Mood Disorders Center, Johns Hopkins Medicine; author, "An Unquiet Mind: A Memoir of Moods and Madness"; Bishop Kevin Daniels, Ph.D, DMin, LGSW, St. Martin's Church; Renz Juaneza, M.D. Psychiatry, MedStar Good Samaritan Hospital; and Stacey Meadows, LCSW-C, Manager, Child & Family Therapy, Jewish Community Services
Sponsoring organizations: The Associated, Baltimore Jewish Council, Baltimore Magazine, Behavioral Health Systems of Baltimore, Catholic Charities, Jewish Community Services, Maryland Faith Health Network, MedStar Health, and National Alliance of Mental Illness (NAMI) of Metro Baltimore.