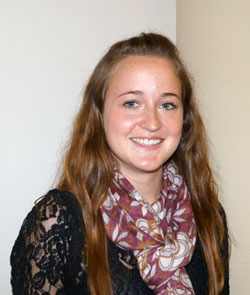 Hey! My name is Marta Brohawn, I'm 22, born and raised in Columbia, MD. I went Long Reach High School, and then continued my education at Mount St. Mary's University, in Emmitsburg, Md. I graduated with a degree in French and another in Psychology. Here I thought the Mount was a tiny school, but Arthur definitely won that contest with New College. Now I'm here experiencing the Project SERVE life in B'more. It seems that I just can't shake my love for MD.
I found out about Project SERVE through the Social Justice program at the Mount, and had a chance to learn about a lot of other service groups. I have always been passionate about service, the driving source being my faith, and dreamed about social work school in my future but I didn't know where to start. P'SERVE appeared to me as the perfect awakening to what's out there in the way of social service. It's also the best opportunity for the service and spiritual growth I have been seeking. A core part of P'SERVE is living in an intentional community centered around service, and this makes the service experience immersive.
I'm working at Sarah's House, an emergency shelter and transitional housing program. My official title is an emergency shelter caseworker. Sarah's House isn't like your average shelter, it does more than just provide a temporary roof over your head. It's a structured program committed to helping people reach their God-given potential. Mental Health, Substance Abuse, Legal, and Employment assessments, as well as obtaining a job and saving 80% of their expendable incomes are all requirements of the program. They also offer a bunch of classes, for example, I'm continuing their Family Literacy class, which is held every Thursday night. For parents and children ages 2-4, it works to instill the importance of reading to your kids. The class starts with getting the group engaged in story time then afterward making a craft related to the story. For Thanksgiving, we read a book on the holiday and then the kids made a paper-plate turkey. The result was literally the most adorable colorful, googly-eyed turkeys and the kids loved it! The next day our program assistants gave out pictures of a cornucopia for the kids to color and write at the bottom what they were thankful for. Their answers had me in tears. They were thankful for Sarah's House giving them a roof over their head and keeping their families together. THIS IS WHAT MAKES IT ALL WORTH IT!!
In the couple of months I have been here I've already seen countless victories big and small, whether it is moving into their own home, reducing debt, owning a car, or the smiles and hugs from the kids. However, it's not all smiles and butterflies, from the moment someone enters the program the struggle, the overwhelming reality that they came from still exists. For some, this journey will be like climbing a mountain, for others less steep, but it's not easy, to say the least. The one thing I love about Sarah's House is the huge support system we have and I already feel the love of this big family.