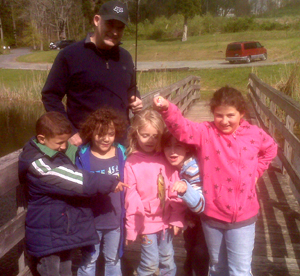 It has always been the good fortune of Anna's House to have great friends and excellent partnerships within the community. One such friend is Rod Bourn and his group who call themselves, Anna's Guys.
With an interest in helping children who have been displaced from their relatives, neighborhoods, friends, and schools because of homelessness, Rod decided to institute a program where his business friends and the children of Anna's House could interact and learn from one another.
"I love working with children," says Rod, "I believe that by spending lots of time with them and showing them opportunities in life, along with respect and tolerance, we can help them grow into better people with better futures."
Working closely with the staff of Anna's House, Rod devised a plan to recruit businessmen in the community to serve as positive male role models in the lives of the children living at Anna's House. "There was a need for positive male role models for our children, many of whom do not have that in their lives," says Cindy Hanley, Development and Volunteer Coordinator at Anna's House.
Since November 2008, Anna's Guys has grown to include twenty men, who take turns spending either a Wednesday evening or a Saturday afternoon with Anna's House children over 5 years old. Many of the men have brought their own family members with them, so there is a larger pool of people the children are getting to meet and know.
Anna's Guys and the children enjoy playing games, going on nature walks, and taking field trips, which have included Orioles and Iron Birds baseball games, visits to the train museum, Baltimore Zoo, Chuck E. Cheese, local parks, and most recently a fishing trip.
The children love the interaction and value the time spent with the mentors. "It amazes me how much these kids seem to like the program; every time I'm there they're excited to see us and ready to play," says Rod.
The staff, mothers, and children of Anna's House owe a debt of gratitude to Rod and the many men who have taken their time to make a difference in the life of a homeless child. "I don't know where my son would be without Anna's Guys. These are men who take time away from their families to dedicate time to my son," said Anna's House resident, Tammy.
Anna's House offers transitional and permanent housing for homeless women and their children in Harford County. Families find a safe environment in which to live at Anna's House, in addition to counseling, career and life skills training, and employment assistance aimed at helping families achieve independence.
For more information about volunteer opportunities with Anna's House, please contact Cindy Hanley at 410-803-1752 or chanley@cc-md.org.