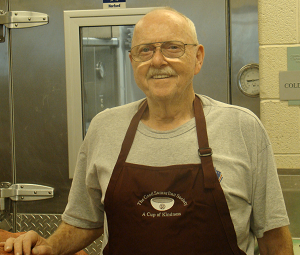 Paul Schwind volunteers at Our Daily Bread.
"We are the hands of Jesus Christ in this world," according to Paul Schwind. Paul spends most of his days volunteering at Catholic Charities' Our Daily Bread and other nonprofit organizations. He found this passion later in life, after his children were raised and he came back to the Catholic Church wholeheartedly.
Paul was the seventh of 12 born into a family that endured a great deal of hardship. Although he was raised Catholic, he grew increasingly angry about the many difficulties faced by his family as he grew older. He admits "anger toward God and the world" that lasted into adulthood. He eventually turned to alcohol.
Despite his distress, Paul felt God's presence and believed that God was reaching out to him, waiting: "God was always there, nearby, waiting for me to move closer to Him."  In the late 1980s, Paul began his recovery and, during that process, rediscovered his faith. He felt drawn back to God and to the Church and sought reconciliation.
This road led Paul to search for ways to reach out to others who are suffering. He sought volunteer work through Catholic Charities and found his way to Our Daily Bread. Because he does not want his giving back to end when he is no longer able to volunteer physically, he decided to name Catholic Charities as the beneficiary of two commercial annuities.
He learned that commercial annuities make attractive charitable gifts because a charitable organization like Catholic Charities does not have to pay income taxes on the annuity's growth, as would other beneficiaries. More importantly, he appreciates the way he can make a difference into the future. "My desire is to leave something that may help others after I am gone."
Thanks to Paul's legacy gift and others like it, programs like Our Daily Bread will operate well into the future. When he is no longer present to help people in need, other hands will continue that work as a result of his legacy – and be the hands of Christ in our community.