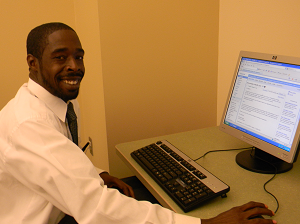 Stephen Scott pulls his ID badge from his pocket to show a photo that was taken six months ago on his first day as a participant in Christopher Place Employment Academy. The sullen man that peered into the camera then bears little resemblance to the engaging young man who effortlessly tells his story.
"I first thought that this wasn't for me because I didn't realize how structured it was going to be," he says in reference to the mandatory classes and meetings at the residential employment program for formerly homeless men.
The epiphany came a few weeks later during a quiet moment of reflection. "I knew that the process of change required me to be honest with myself and that this would mean exposing myself to something new and different," he says, adding, "This is something I have to do."
A series of lost contracts caused his janitorial service to fold, leading to the loss of his apartment and bringing him to Christopher Place.
After six months in the program, Stephen has completed the Academy and Job Readiness phases of the program, which have helped him define his employment goals, hone in on his skills, and prepared for his job search.
"There are not many opportunities like this available for people. You would have to pay a fortune out in the community to take all the classes that Christopher Place has to offer in one place. For the guys who are lucky and accepted to the program it is a great opportunity," say Stephen. An additional perk he has found is the interaction he has with business volunteers, taking the opportunity to ask questions and network.
Reflecting on how far he's come, Stephen says, "If you're not open this is not for you, but this is a great program if you're willing to change."
Stephen's success and the success of others seeking employment services at Christopher Place and the Our Daily Bread Employment Center is credited in part to support from the Walmart Foundation. A recent $200,000 grant from the Walmart Foundation will help fund job readiness instruction, job placement, retention services, and housing for the men of Christopher Place as they gain economic stability.