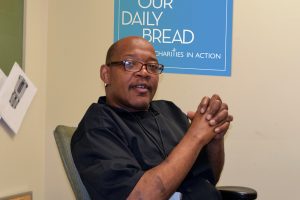 Chef Robert Blanchard Blows into Baltimore from the Windy City of Chicago to serve as Chef for ODBEC and CPEA
Robert Blanchard worked as a chef FOR A DECADE in Hyde Park, Chicago, the former neighborhood of President Barack Obama. In 2016, he moved to Baltimore and began working at ODBEC in 2017 as chef.
Q. What brought you to Catholic Charities and ODBEC?
I was interviewing near ODBEC and I saw this long line of people. The staff at the front desk told me about ODBEC's mission. They needed a cook. I applied online and here I am today.
Q. How did you get into working as a chef?
I trained at Cordon Bleu in Chicago, which was originally called the Chicago Hospitality Institute. My first position was at the Marriott as a sous chef in 1992.
Q. What attracted you to being a chef?
I was raised by three generations of Southern women – my mother, grandmother and great grandmother. They were always in the kitchen and their love of cooking passed on to me. It's a gift.
Q. You do a fantastic job of meal presentation. Why?
Eating and dining should be an experience. Your first bite should blow your mind! I've made Caesar salads, chicken, mashed potatoes and bread pudding for more than 600 people. It was a challenge, but I did it. They loved it. I've even received a standing ovation from the CPEA men!
Q. What is your day to day experience at ODBEC?
My daily goal is to ensure that people receive an enjoyable and nourishing meal. In the Christopher Place dining room, we journey the world with food – Mexican, Asian or good 'ole American barbecue.
Q. What is the best thing about your work?
The CPEA men look forward to meals. It offers them a break from chores, classes, study and searching for work. They are training for a better life, and it's my job to energize them through food.
Working with the guys at Christopher Place is gratifying. The men assist me in the kitchen which allows me to make the food they love, like bread or banana pudding.
And I share life's lessons and listen to them when they need to talk. A very wise man, my pastor, supported me during difficult times in my life and I just try to pass it forward.
Q. How do life experiences assist you to accomplish the work you do today?
I've faced serious health issues. I kicked renal cancer, lived through open heart surgery, and I was wounded by random gunfire in Chicago. Despite those challenges, I'm here for a reason and that's to do good for others when I can.