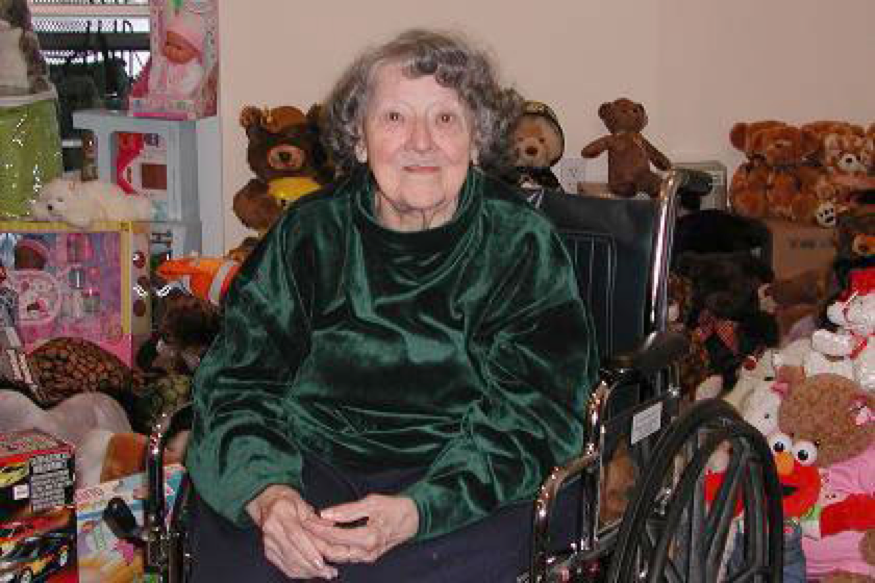 Madeline Baker, 85, a resident of Catholic Charities' Reister's View Senior Apartments in Reisterstown, is just one of the many Catholic Charities' clients who are giving back this Holiday Season.
For the past six Christmas seasons, Madeline has been collecting and bringing new life to stuffed animals and dolls she donates to Baltimore County Department of Social Services' Annual Holiday Toy Drive.
"Just imagine how happy some little boys and girls are going to be to receive these gifts on Christmas morning," Madeline said looking proudly over this year's bounty of stuffed animals and toys.
Madeline made Reister's View her new home in 2001. When she underwent heart surgery six years ago, she knew that the only way she was going to make a speedy recovery was by keeping busy. That is when she decided to start her Christmas project.
Some people said it could not be done when Madeline shared the idea of collecting and refurbishing toys for children in need, but she confidently replied, "Even if we only collect two toys, they are still special gifts children would not otherwise have on Christmas morning." Madeline believes you are never too old to do something nice for another person.
"Each year, I put a poster on the cork board that says "Help" in big letters…that is how you get people's attention. Then each morning, I wake up to bags outside my door filled with stuffed animals, dolls and different pieces of ribbon and fabric that the other residents give me," explained Madeline.
It is at this point that Madeline really gets to work. She checks each toy for any rips or tears that may need to be repaired. She then takes her collection to the laundry room where she washes and dries each toy. Once she knows each toy is clean and safe for the children, she separates all of her fabric, lace, ribbons and buttons and decides how she is going to dress up each toy. Madeline has a story for just about each toy she worked on:
"You see that white bear over there? The Red Hat Society came to visit one day and gave us little red hats. I decided to save the hat and find the perfect bear to wear it. I just added some red lace and it looks great."
Madeline points to another bear dressed in Army fatigues and said, "I had to perform surgery on that one. I ordered boots that came all the way from Texas, but when they got here his legs were too big. He took some work."
"And all those little brown bears – my friend and her husband came to visit with a big sealed box and said they had a surprise for my birthday. When I opened the box, there were 25 bears they ordered for my collection."
Madeline has been getting some extra help for the past three years from the Mount St. Mary's University Alumni Association, which is the Reister's View Catholic Charities' Dragon Boat partner. When Stephanie Anderson and Julia Melody of the Alumni Association learned of Madeline's project, they decided they would collect new toys at one of their alumni social events to add to Madeline's collection. This year, Madeline and the Mount St. Mary's Alumni Association collected nearly 300 toys that will be distributed to needy children in Baltimore County.