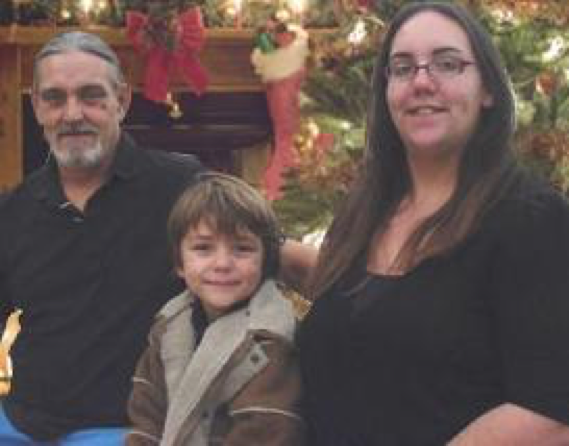 This season, Amber, her husband, Earl and their son, Johnny, have so much to be thankful for and with the help of Sarah's House they are looking forward to a brighter New Year. Amber and her husband Earl were living in Oregon when her drug addiction became so dangerous that they sent their five-year-old son Johnny to live with family in Virginia. Earl then gave Amber an ultimatum . . .get clean or lose her family. Amber knew what she had to do. but having used drugs since the very young age of 12, this was an enormous challenge.
After completing an addictions program, Amber and Earl, a mason by trade, were unemployed and unable to find work so they moved east to reunite with Johnny and live with Amber's sister in Maryland. When this arrangement did not work out, they were referred to Sarah's House in July 2009.
 
The family has excelled at Sarah's House and is turning their life around. Within two weeks of arriving, both Amber and Earl found jobs. Amber is maintaining her recovery by attending regular AA/NA meetings and receiving weekly addictions counseling. They have substantial savings, moved into transitional housing, received a car through Vehicles for Change and are looking forward to celebrating all they have achieved this Holiday Season.
"Sarah's House is a wonderful program. We could not have gotten our lives back on track without it. They gave us the stability, the structure and the tools we needed to start over. The NA meetings have helped me stay clean, and I don't think I could have done that on my own. We have goals now and we're working towards achieving them. And there is always someone here that can help if you are feeling frustrated or having trouble," Amber says.
Every week they participate in Family Literacy Night that gives parents an opportunity to spend quality time with their children. They read, do craft projects, and play games as a family. Johnny has adjusted very well to his new home and seems much happier. He is enrolled in the Sarah's House 4H club and attends the Families Learning at Sarah's House (FLASH) program every day.
"Johnny finally has the structure he needs. He doesn't seem worried anymore. He knows what to expect every day and he is happy," Amber says.
As they do each year, Sarah's House has many special holiday events planned for the residents to help them get into the Christmas spirit. This year, with the help of some very generous volunteers and donors, residents like Amber and Earl will be able to "shop" for gifts for their children among donated toys. They will also enjoy time with their families and fellow Sarah's House residents at Holiday parties sponsored by local companies.
Amber, who is currently working at a seafood restaurant, will begin taking classes in January in pursuit of a direct care support staff certificate. Earl is working for a moving company but is actively looking for a masonry job. The couple has so much to be thankful for this Season and they are working hard to start their new life. They now have goals and because of Sarah's House, they know they can achieve them.