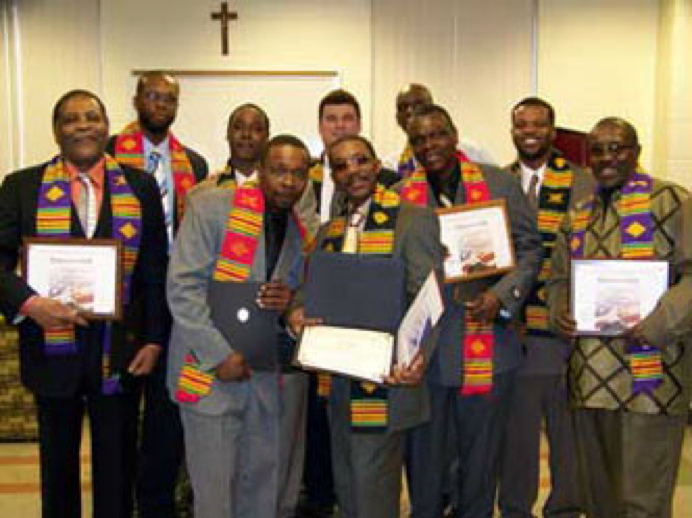 This is the story of how Alvin went from a life of drugs and crime to become a graduate of Christopher Place Employment Academy and then on to become a social worker to help others like himself.
More than five hundred men have graduated from Christopher Place Employment Academy since the program began in 1996.
Christopher Place has twice helped return Alvin Davis to a productive life. Alvin went to prison as a young man. When he was released, he drifted into a directionless life and was soon homeless. He met a CP graduate who brought him to Christopher Place for help. They encouraged him to get clean, so, after a detox program and 30 days in rehab, he returned and enrolled in the CP program. He was impressed that the staff at CP wasn't afraid of him, as were most people. The program provided him the stable, drug free home he needed. Reverend Horn, his mentor, advised Alvin "not to get disconnected" from those around him. Unlike life in prison, the staff at Christopher Place helped him learn to "deal with different attitudes and people."
He graduated from Christopher Place in 2002, and for awhile his life was back on track. But on his own again, insisting he did not need support, his drug addiction got the best of him and his life unraveled again. He remembered, though, that CP was always there as a resource for him, and in 2007, he got clean again and returned to CP for 60 days to set himself straight. At CP, he was able to practice the 12 steps, work on his people skills, volunteer, help others, and plan a course for his life because his "basic needs were met." This time he knew he would need support when he left Christopher Place, and he moved into CP community housing.
At Christopher Place, he says he saw "what life could be like" and he wanted that life. Alvin went to college full-time and worked full-time. To fill the time between work and school, he went to as many 12 step meetings as he could find. Now, he says, "I'm in control of what I say and what I do." Alvin takes responsibility for his actions, good and bad, and for his life.
Alvin's choice to become a social worker was influenced by a social worker who helped him as a child. He says, "She came and met with me twice a week for years, despite the fact that I was mostly unresponsive. She never gave up on me." Now he plans to help others and says, "It's never too late to start over." Alvin is a social work intern at ODBEC and will graduate from Copin State next year.