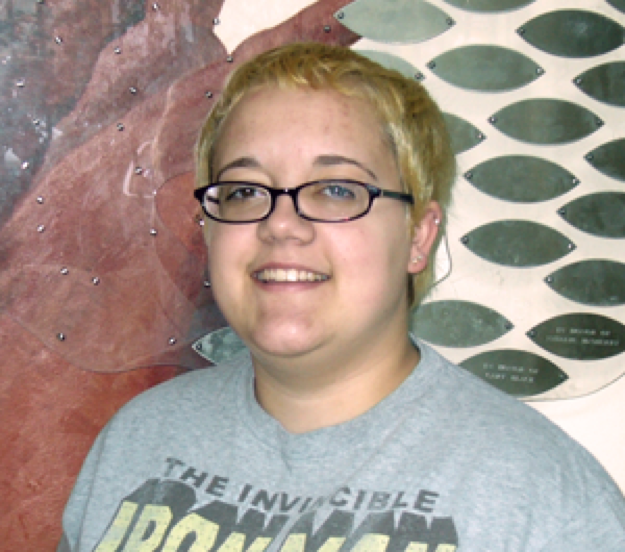 Through the help of My Sister's Place Lodge Ashleigh has found her way back on the right path.
At the age of 15, I was blessed enough to move to Glen Burnie, MD to join my father, step-mother, and younger sister.  Despite any and all of my family's efforts to support me in my mental illnesses , nothing prevailed. The problem and solution was myself. Not making the choices to help myself put me right on the street.  At the time, I could not see the unconditional, tough love coming from my family, but that came in time. 
After just landing a job at United Colors of Benetton, I found myself at Department of Social Services looking for a place to live. I was able to get an emergency bed for the weekend, but once Monday rolled around, I ended up back at DSS. With a few weeks of uncertainty behind me, a case manager got me into a Shelter. Even though this was a blessing, hardships came with juggling a full-time college schedule, part-time work and a lengthy commute from Annapolis to Hanover. 
Besides a roof over my head and food in my stomach, the Shelter provided me with case manager, one that began the application process to My Sister's Place Lodge. With summer out the door and fall around the corner, my juggling act was nearly over, but not in a good sense. I had snowballed down to a deep dark place surrounded by unhealthy relationships and addictions. By October, I admitted myself to the hospital, in the end losing my job, and my bed at the shelter.  I found myself at square one, hopeless. Back at DSS once again, I landed at a program that takes men and women to different churches each week to eat and sleep. Thanksgiving had arrived and counting blessings felt like pulling teeth. 
Then I received a life-changing phone call; it was Ms. Jennifer Dowler, an intake manager from My Sister's Place Lodge.  Full of excitement and gratefulness, it was becoming easier to count those blessings.
Within the next week, I moved into My Sister's Place Lodge and instantly experienced a wave of support and understanding.  Just a few of the staff member's efforts to help me reach my potential included  the referral to Our Daily Bread Employment Center for assistance in finding a job , volunteer work at My Sister's Place Women's Center, and assistance with clothing and medicine.  Not to mention the wonderful meals I was given at both the Lodge and My Sister's Place Women's Center.
I am proud to say that after much support and encouragement from staff and volunteers from several Catholic Charities' programs, I am employed at the national Aquarium and stable with my mental health.  Over the past year I have experienced a roller coaster of events all of which have made me stronger in the long run.  I owe My Sister's Place Lodge and the Women's Center a part of my life. They came into the picture at a time where I felt no hope and no desire to move forward. Catholic Charities has helped me cherish the divine within.  I would like to thank everyone for their support and efforts in these programs because they are life-changing.