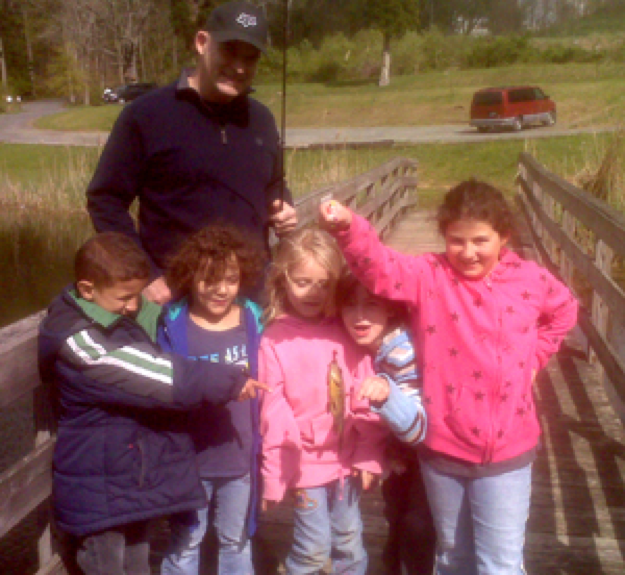 Spring is finally here and the children at Anna's House have been enjoying spending time outdoors with "Anna's Guys. "
Phil Hosmer, Chris Kerr and Ed Silberzahn, all members of "Anna's Guys," recently took the children on a field trip to Harford Glen Environmental Center where they spent the afternoon fishing.  Zoe, Kaitlyn, Sophia, Hannah and Corey had a wonderful time on their first fishing expedition. After about an hour, Zoe's persistence paid off as she landed the only fish of the day… a nine-inch long bluegill!
"Anna's Guys" is a mentoring group of about twenty men who spend time with the children at Anna's House. Having an interest in helping children who have been touched by homelessness, Rod Bourn, a long-time Anna's House supporter, decided to institute a program where his business friends and the children of Anna's House could interact and learn from one another.
"I love working with children," says Rod, "I believe that by spending lots of time with them and showing them opportunities in life, along with respect and tolerance, we can help them grow into better people with better futures."
Cindy Hanley, development and volunteer coordinator at Anna's House says, "There was a need for positive male role models for our children, many of whom do not have that in their lives."
The guys "hang out" with the kids every WednesdY night and at least two Saturdays each month. The goal of the program is to provide the children with opportunities that are not currently available to them. In the past, Anna's Guys have taken the children to Oriole's and Ironbird's games, the train museum, the zoo, Chuck E. Cheese and local parks.
For more information on "Anna's Guys," please contact Cindy Hanley at 410-803-2130.