( May 16, 2019 – Timonium, MD.) "We've created something good after experiencing something evil," said Frank Otenasek as he addressed guests gathered at Gallagher Services for the 29th Annual Anne Lindsey Otenasek Scholarship awards dinner. The annual event celebrates and perpetuates the spirit of Lindsey who tragically died in December 1988 while flying aboard the Pan Am flight 103 when it exploded over Lockerbie, Scotland.
Lindsey had served as a special friend volunteer while in high school, and she cherished her work with individuals with intellectual disabilities. One year after her death, the Otenasek family established the scholarship fund in her honor.
"Lindsey loved connecting with people and assisting those in need," said Frank Otenasek. "She was wise beyond her years."
This year's four recipients, Omowunmi Taiwo, Chikwunwike Ogbogu, Shemeira Savage and Madison Pahl, each received $5,000 to apply toward their college or graduate school education.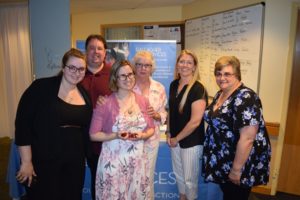 Special Friend Volunteer Scholarship Award Winner Madison Pahl (front-center) with her grandmother, parents, sister and Parkville High School Principal, Maureen Astarita "Working with Gallagher Services has been a joy. I will use the scholarship to pursue my studies in the culinary field, which I love."