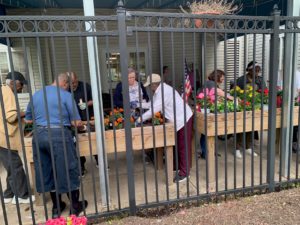 (May 5, 2019) Equipped with gardening gloves and trowels, participants from St. Ann's Adult Day Care stood shoulder-to-shoulder with volunteers from Erickson Living for the annual planting of orange and yellow marigolds in the courtyard's elevated flower beds.
"Getting our hands dirty and then seeing the beautiful end results really does lift the spirits for all," said Cherie Melton, program director of St. Ann's. "We are so grateful for this on-going partnership from Erickson. Their visits also lift our spirits."
Erickson Living, the largest developer of Continuing Care Retirement Communities in the United States, has been involved in Catholic Charities' Dragon Boat Races since 2002. In September 2018, Erickson's Living served as the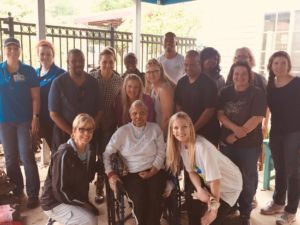 Dragon Boat Race partner with St. Ann Adult Day Services.times a year, Erickson employees visit St. Ann's to sponsor a variety of events for older adults. The spring planting is done to commemorate Mother's and Father's Day.Throughout the years, Erickson has proven to be a terrific program supporter. Many thanks to Erickson Living for working alongside our St. Ann Adult Day men and women and creating a beautiful garden!