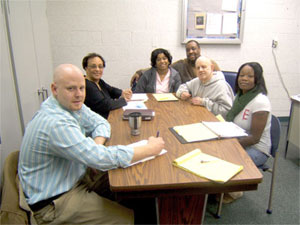 Whether completing service learning hours, high school senior projects or getting involved through other organizations, students are an integral part of our mission and the volunteer base here at Catholic Charities. For each student, the motivation behind their volunteerism may be different, but they all have a great impact on our programs and clients.
One of the recognized students was Gabby Allen who volunteers in one of Gallagher Services residential treatment apartments. Gabby began volunteering her sophomore year because she was interested in a career working with people with developmentally disabilities. Gabby was assigned to one of Gallagher's apartments and she has been spending her time with the same eight ladies over the last few years. Together, they play music, dance, sing songs and play board games. Gabby has developed a special connection with each of the residents and she says that her experience has been more than rewarding. She attributes these special women with inspiring her to live more freely and embrace the differences of those around her.
Stephanie Mattiello was also recognized by Gallagher Services for her dedication to the program. Stephanie has also volunteered in a group home since the age of 14 and has developed a special bond with each of the men living there. Whether watching movies or playing basketball, Stephanie believes that she has gained more than she has given each day she spends with her special friends. As she prepares to leave for college this fall, Stephanie knows it will be difficult to say goodbye, but she is comforted knowing she will carry their memory with her wherever life may lead.