A couple of years ago, attorney Wade Wilson decided to share his talents by doing pro bono legal work. What he didn't know at the time is that he'd end up doing his volunteer work at the Esperanza Center. "I live in Fell's Point. I asked myself what is the closest, most sophisticated pro bono legal work to help the people in Baltimore, in my neighborhood? I came in here [to Esperanza Center] and I was blown away – literally blown away. I had no idea it existed," he said.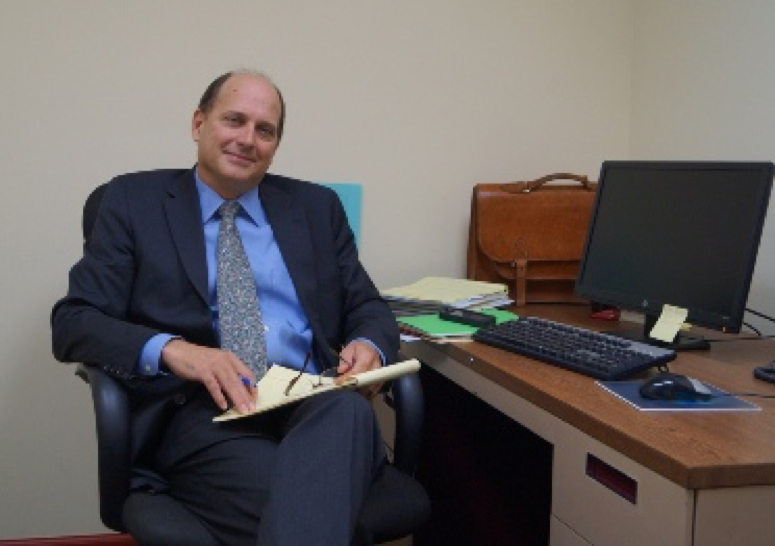 Now coming up on two years of volunteer service with Esperanza, Wade works in the Immigration Legal Services (ILS) office one day each week. Although securities law is his area of particular expertise in private practice, his work at Esperanza requires him to operate in what he refers to as "a highly rarified niche of immigration law," and one in which jurisdictions overlap between both state and federal courts.
When he started at Esperanza, Wade's volunteer work generally consisted of helping the staff attorneys with their own immigration cases, and often these cases entailed working with women who had endured violence in their home countries. These days, however, he works with juveniles, many of whom have arrived unaccompanied in the U.S. over the past several years.
The stories these children and teens tell him are harrowing, and often he hears narratives of violence, abuse, abandonment and poverty.
"Wade has been an excellent litigator and advocate for the children who receive services at ILS," says Adonia Simpson, managing attorney for Immigration Legal Services at the Esperanza Center. "Without hesitation, he jumps in to assist when we are desperately in need of a pro bono attorney. His dedication to immigrant youth is moving as he makes a difference in each of their lives—giving them an opportunity for a better life and brighter future."
Wade smiles as he talks about one of his clients, Oscar. Like many of the teens who have sought legal assistance at Esperanza, Oscar fled horrific abuse and grinding poverty in his native Honduras. After an arduous trip through Guatemala and Mexico at age 16, and several weeks in a detention shelter near San Antonio, he was finally reunited with an older brother in Baltimore and soon found his way to Esperanza and to Wade.
With Wade's assistance, Oscar obtained legal relief through Special Immigrant Juvenile status. Last December he received work authorization, and in early September, Wade was able to present Oscar with his green card. Now 19, Oscar is doing well in school, working in a restaurant and learning English. His story is the type of success that energizes Wade in his pro bono work.
"You follow this young man from being undocumented to getting a green card," he said. "They don't believe it's even possible. Isn't that amazing?"
He continues to be awed by Esperanza Center and the comprehensive network of services available for recent immigrants, but most of all by the staff and volunteers whose dedication and sense of shared purpose make it all possible. In particular, he cites "the camaraderie, the support and the energy" that surrounds the work being done throughout the building. "What we're trying to do here is amazing," he added.
Wade also spoke about the support and appreciation he gets from the Esperanza staff. "I get Adonia sending me a text message telling me I'm a rock star," he said. "I've never been called a rock star before." He laughed, but then refocused the conversation to what really drives his desire to help: "I'm just trying to do my best for the clients."