It was a busy weekend for the men at Christopher Place Employment Academy as they embrace exciting new challenges and a joyous graduation.
On Saturday, an enthusiastic group of academy men competed in the Baltimore Running Festival. On Sunday, 21 men graduated from the academy and celebrated their accomplishments of overcoming years of homelessness and now having a job, healthy lifestyle and solid friendships.
"Everything seems to happen at once," said Nicole Williams, program manager of the academy. "This was a busy weekend for Christopher Place, full of blessings and new opportunities."
The academy team participating in the Baltimore Running Festival has been training with the Baltimore chapter of Back on My Feet, a national nonprofit that uses running to help people combat substance use disorders and overcome stress. Thanks to this partnership, the men were prepared to take on the following races:
Marathon: Eric Williamson, Hadi Sadeghiasl
Half Marathon: Aaron Parson, Davon Braxton, Darryl Fraser, Mark Burker
5K: Andrew Francois, Raheem Campbell, Mark Darden
There are currently 56 men currently enrolled in the academy. All of the men are in their 30s, 40s, and 50s. Sunday's graduates completed two years of intensive academic study, healthy living, job training, and behavioral health counseling. All of the graduates are working and many have saved enough money to secure their own apartment or even a house.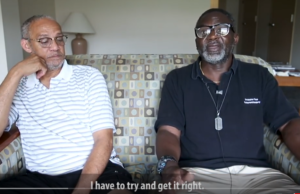 Click this link to view Catholic News Service video on Christopher Place Employment Academy
On Wednesday, Oct. 23, the academy will celebrate five men who have recently joined the program and have completed the first three months of their journey to achieving a fulfilling life.