November 27, 2017-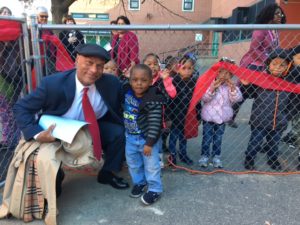 This morning, many excited preschoolers and their teachers from the Catholic Charities Head Start of Baltimore City in Harlem Park celebrated the opening of a NEW PLAYGROUND made possible through the generosity of T. Rowe Price and Catholic Charities' supporters.

The playground is named for T. Rowe Price Executive, Vernon Reid. Mr. Reid spent his formative years on the West Side and during his professional career, he has generously and consistently given back to his neighborhood. The playground celebrates his commitment to community, education and philanthropy as he prepares to retire from his position at T. Rowe Price.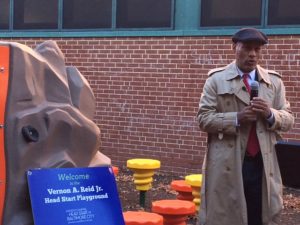 Representatives from T. Rowe Price, Catholic Charities, City and State elected officials were present for the ribbon-cutting and naming ceremony, which was a surprise for Mr. Reid.
"I've been blessed to have people who saw something in me that I didn't see in myself," he said. "Hopefully you guys can see that too in these kids from Baltimore."
---
For more about this story: