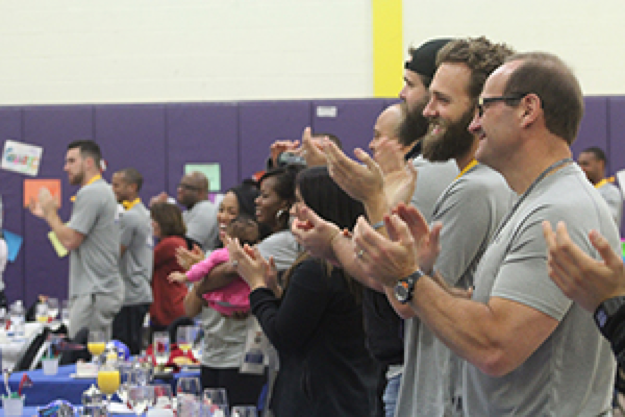 It was Christmas morning in March Sunday morning when the NFL Ed Block Courage Award winners came to spend time with our kids.  It was a great day that will be remembered by the players as much as the children.  Every year the player's remark on what a life altering experience it is to "play with the children." One child said, "I can't believe I had this chance!"  They learned about each other's courage and one can't underestimate the long-term impact a single interaction (no matter how brief) can make on the life of a child.  We hope yesterday's experience will spark the player's interest in helping children and families in their home communities.
In addition to the NFL players and athletic trainers, singer Christina Grimmie (runner-up on "The Voice") and Michael Phelps mother, Deborah Phelps, joined us.  They both left here touched by the experience and motivated to support our mission.
The Ed Block Courage Award Foundation is dedicated to raising awareness and prevention for abused, neglected and at risk children.  Our history with Ed Block goes back 35 years.  We are the original Courage House.  Because of our association, the children of St. Vincent's Villa have benefited tremendously.  It has opened the door to many volunteers and businesses and, of course, our beloved Baltimore Ravens.  Since coming to Baltimore, the entire Ravens organization (owners, coaches, players, and front office staff) have supported us in a variety of ways including financially, wonderful Christmas gifts, trips to their practice facility and games, special events and player visits.  We look forward to our continued partnership with the Foundation as together we work to increase supports and services to children and families.
There are a number of people and departments who need to be recognized and thanked for making this day possible:
• Trisha Ey for planning the visit and sweating all the details.
• Mary Lee, Gina (and members of her family), Mindy, Brittney and the host of volunteers for their assistance.
• Our Maintenance and Housekeeping staff for their set-up and clean up.
• Chef Averille and Culinary Services Group for making a delicious and healthy lunch.
• Ray Wright, who serves as our key ambassador to the Ed Block Foundation. He coordinates transportation for the players and was recently elected President for the national Courage House Network.
• Therese and Mercy staff and kids for their wonderful performances.
• All the residential staff who did a great job of engaging the players and entertaining them with fun games and ice breakers and making sure everyone had a great time.