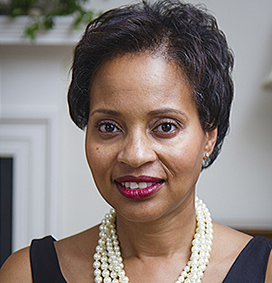 For Immediate Release: April 30, 2018
Contact: Rowena Daly – Catholic Charities
rdaly@cc-md.org – 667-600-2007
Rita Walters Joins Catholic Charities of Maryland as Chief Development Officer
Baltimore, MD – Catholic Charities is pleased to announce the appointment of Rita Walters as the new Chief Development Officer effective April 30, 2018. Ms. Walters brings more than 15 years of experiences as a non-profit executive raising millions of dollars for leading and nationally-recognized universities, religious and non-profit institutions.
"We're thrilled to have Rita join the Catholic Charities team where she will play a key role in our ability to fulfil our mission to improve the lives of people in need and make our community stronger," said Bill McCarthy, Executive Director of Catholic Charities of Maryland. "Rita's experience demonstrates an ability to effectively fundraise, apply innovative strategies and form a collaborative team to identify and attain visionary goals. She brings warmth, a great work ethic and a commitment to helping all people in need."
"Supporting vital programs that transform and heal individuals and communities throughout Baltimore and the nine surrounding counties of Central Maryland is extremely important work and resonates with me deeply," said Ms. Walters.
A native of New Jersey, Ms. Walters spent 15 years working in finance and accounting before seeking "a more meaningful work experience." She began her nonprofit career at Big Brothers, Big Sisters (BBBS) of New Jersey before relocating to Maryland in 2000. After arriving in Baltimore, she volunteered on several local boards to immerse herself in her new community and joined Baltimore Reads as the Special Events Manager.
In 2004, she joined Big Brothers Big Sisters (BBBS) of Central Maryland as the inaugural Individual Giving Officer where she built a mission-based fundraising program that was ranked #1 among all BBBS agencies in the country. A year and a half later, Ms. Walters became the first Director of Development at the Baltimore Presbytery where she successfully developed, executed and surpassed her fundraising goals.
Ms. Walters joined Johns Hopkins University School of Arts and Sciences as a Senior Associate Director of Development in 2008, a position she held for 5 and ½ years. Planning, initiating, and overseeing a cycle of major gifts from prospect identification to successful solicitation, she managed a varied portfolio of 150 major gift prospects annually, serving alumni nationwide. In this capacity, Ms. Walters led the efforts to fundraise for the Center for Africana Studies.
In 2013, Rita was recruited to the Washington National Cathedral to be their Chief Development Officer. Responsible for leading all aspects of the development program at the Cathedral, Rita rebuilt the development team and instituted a multi-level giving society raising over $20 million during her tenure. She launched two successful fundraising events, which continue to be a mainstay of the Cathedral's fundraising program, and guided and supported the Dean as a member of his senior team. In 2015, Rita was recruited to the Maryland Institute College of Art (MICA) to become the Vice President for Advancement. A member of the President's cabinet, Rita was charged with rebuilding the development team at MICA, leading the silent phase of a comprehensive campaign, diversifying and strengthening the donor base, managing a pool of principal gift prospects, and initiating better practices for philanthropic engagement. With a commitment to excellence, strong leadership and a committed team she raised over $24 million dollars during her tenure. She was also the visionary behind the launch of the Harry T. Pratt Society honoring the first African American alumni at MICA. The first Harry T. Pratt Trailblazer award is to be given to two graduating students this spring.
Ms. Walters received her Master of Liberal Arts degree from Johns Hopkins University, where she also earned a graduate certificate in Non-Profit Studies through the Institute of Policy Studies Center for Civil Society. She completed her undergraduate studies at Fairleigh Dickinson University with a major in Accounting.
She and her husband, Troy, have been married for 30 years, and they have two sons, Chaz and Chandler and one grand-dog, a shelter rescue, named Barry Allen after The Flash.
###
Catholic Charities is Maryland's largest private provider of human services, offering assistance to individuals, children and families experiencing poverty or homelessness, people living with intellectual disabilities, immigrants and older adults without regard to religion, race or other circumstances. Inspired by the Gospel mandates to love, serve and teach, CC-MD offers more than 80 programs in 200 locations throughout the state. Visit www.cc-md.org.