Before the COVID-19 pandemic, Susie Diffenderfer was a very busy woman. She worked in a daycare, volunteered at Our Daily Bread Employment Center, worked out at The Y, took a music class, visited seniors at a local retirement community and nurtured a range of hobbies and interests, such as crocheting, cooking and writing poetry.
That's exactly the kind of activity Susie's mother, Chrissy Diffenderfer, was looking for when the family came to Gallagher Services. Susie has intellectual disabilities, but Chrissy wanted to make sure they did not slow her down and that she was able to explore her varied interests and passions.
"It's about being out in the public and doing things, not being in a building all day," Chrissy said.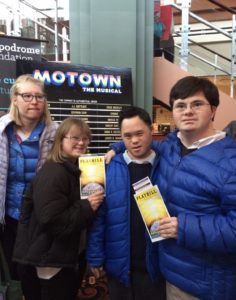 Susie is part of the first cohort of Gallagher Services' Community Development Services (CDS) program, which matches one staff member with a group of three or four participants – in this case, Caroline Christofferson, David Hahn and Chris McCarron. The group has become close over time, and together, they decide what they want to do each week, accounting for the varying abilities and interests of each person. The staff member then facilitates the activities.
"It's very person-centered," said Brian Trees, Gallagher Services' associate administrator. "It's a full day oriented around what people want to do and helping them expand their world. It's based around their interests. And it's not just showing up in the community, but becoming a participating member."
Evolving approach
CDS is not the right approach for everyone, including those who need more intensive supports, but it is part of the evolution away from traditional day programs and toward greater community involvement. The shifts in approach are also steering how Gallagher Services is thinking through its use of facilities and the programs that will use them.
CDS, for example, requires staff with a particular set of skills – people who are engaged and motivated to support the group members' interests.
"A very important thing to the success of [the program] is … a [staff member] who has the incentive, the initiative, the love, the care," said Chrissy. "We're giving these most vulnerable people to be with them, and it's enriching them, but you have to trust that they're safe."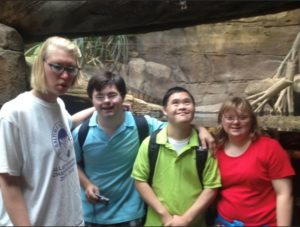 The program activities have helped Susie reach her own goals, including becoming a certified lifeguard. Her group would go to The Y, where they could use the pool, and that's where Susie, a Special Olympics swimmer, took her lifeguard test – passing on her first try.
"I'm also certified in CPR, first aid and water lifesaving, too," Susie added.
Since COVID-19, the group has not been meeting in person and Chrissy, who is a nurse, said she has been particularly cautious because Susie has a compromised immune system. Families of the participants have started talking about getting the group back together for outdoor activities once or twice a week. They miss the group and the relationships they have forged through it.
"These guys feel important, and they have friends," Chrissy said. "I hear all the time, 'Oh, I saw Susie the other day,' or we'll go places and someone will say 'Hi, Susie,' and I'll ask, 'Who's that?'"