Nearly three years after a fire compromised the Fells Point-based Esperanza Center, there is beauty born from the damage.
Thanks to the vision from Baltimore's Art with a Heart, and the loving contributions from volunteers, community members, and staff, a huge wall of the renovated center will bear a stunning and stirring mural.
"I thought we would only be able to create a small mural replacement, but the size and impact of what we have so far is nothing short of amazing," said Esperanza Center Outreach and Operations Manager Giuliana Valencia-Banks. "We lost so much in the fire, and now out of the ashes to see something so beautiful is priceless. Seeing it come together is really powerful and overwhelming."
One volunteer working on the mural is Evelyn Quintero-Mendoza, a first-generation American.
"Being part of this experience creating the mural gives me a sense of happiness and sadness," said Quintero-Mendoza. "The temporary sadness is my parents migrated here 22 years ago not knowing anyone, the language, and with no place to live. But the happiness is they found a place to prosper, and now my siblings and I have a better future because of their vision. It's a bittersweet moment."
A 25-by-8-foot tapestry will be covered by mosaic tiles which will create a series of swallow birds and monarch butterflies. The monarch butterfly is representative of the immigrant struggle of migration. Swallows are birds known to migrate between South and North America. Each bird in the mural will carry a word of inspiration in its mouth that describes Esperanza Center such as compassion, empowerment, and love.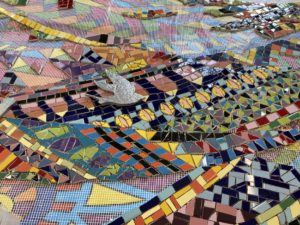 "This is the first place that represents hope for our clients, so it's emotional to see and read some of the words they have suggested because that is how we want everyone to feel as they enter our doors," said Valencia-Banks.
"I hope other immigrants will look at the mural and see they are not the first to make the journey to the States, and that they are in the right place here at Esperanza Center, and that everything will be ok," said Quintero-Meddoza.