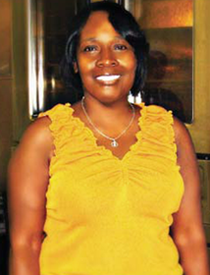 My mother constantly worked to provide for her family. Being the middle child, I always felt neglected and craved to feel loved, so by age 15 I turned to alcohol and found acceptance on the streets and that's when my life began spiraling downhill. Street survival was difficult at first, but quickly became an adaptable lifestyle and it's where I felt the most loved.
I am Cathy and here is my story.
I found myself in a vicious cycle of drug addiction, a life with no meaning or purpose that led me to jail. Once released from jail, I eased back to my old habits. While back on the streets, I witnessed horrific events – people overdosing from drugs, being shot, stabbed, pistol whipped.
My street mentality consumed my reality and resulted in a revolving door with the Department of Corrections.
After 20 years of this lifestyle, I lost custody of my children, I lost my apartment and I lost my dignity. I did anything to support my habit. It was during this time I realized and truly understood God was watching over me — even in the midst of my own personal hell.
I found my way to My Sister's Place (MSP), the winter of 1992, where I received clothing, showers, toiletries, phone service, and counseling.
I wanted and needed to make a change for myself. At MSP I received counseling for my drug addiction and help in finding housing. MSP was my safe haven during my transition back into the community.
For the last 17 years, I have been free of my addiction and criminal lifestyle. The lesson I learned was it's never too late for a new beginning!
I now have my own apartment and am seeing my children on a regular basis. I volunteer at MSP helping other women who are released from jail, who have been involved with drug addiction and homelessness issues.
MSP helped me turn my life around and taught me the value of respecting myself and others.
The staff and volunteers at MSP embraced me as well as the other guests with unconditional love.  They taught me how to give that same love to others. I truly believe that God works through people, people like me who have been able to put my like back together and become an example to others who have walked my path. Every day, I thank God for MSP — for giving women hope and for loving and believing in them when they do not know how to love or believe in themselves.