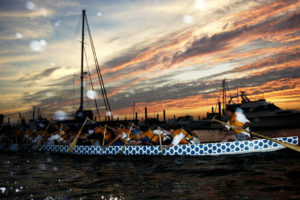 Paddlers from leading businesses, educational institutions and nonprofits take to the Canton Marina tonight to begin training for the 11th Biennial Catholic Charities Dragon Boat Races. Who will defeat the three-time champion, T. Rowe Price? Find out two months from now on Sat., Sept. 8 during the full-day of Dragon Boat racing in Baltimore's Inner Harbor to benefit Catholic Charities' programs.
2018 Teams:
Allegis,
Archdiocese of Baltimore,
Bank of America,
BGE,
Brown Advisory,
Cathedral of Mary Our Queen,
Catholic Charities,
Catholic Relief Services,
CohnReznick,
DAP Products Inc.
Erickson Living,
Hamel Builders,
Harkins Builders,
Heritage Financial,
Johns Hopkins Healthcare LLC #1,
Johns Hopkins Healthcare LLC #2,
KPMG,
Legg Mason,
M&T Bank,
Oath Builders,
Paypal,
PNC Bank,
Saint John The Evangelist School,
SunTrust,
T. Rowe Price,
The Annie E. Casey Foundation,
Transamerica,
Wells Fargo, and
Whiting-Turner.