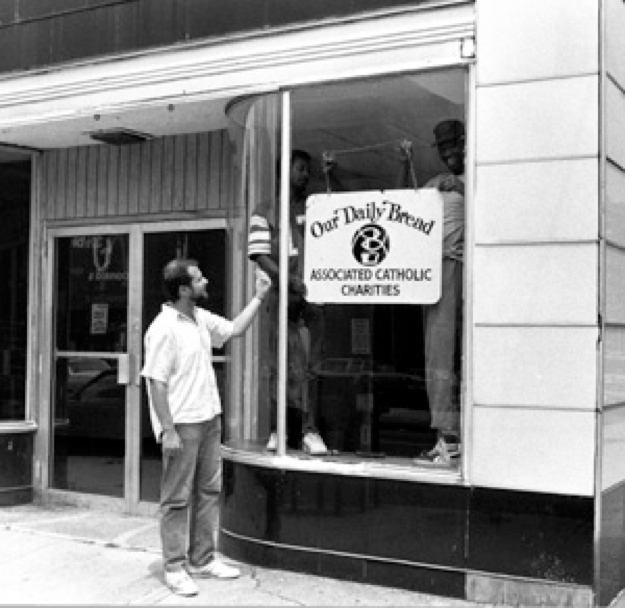 Fr. Tom Bondarenko at a temporary ODB location in 1990.
From the beginning, volunteers served the meals to guests. "We have always provided more than a meal; we served people with dignity, and that was equally as important as the food we provided. We never served cafeteria style. Sr. Josanna insisted that our guests be treated with respect," reported Angelo Boer. Angelo Boer became program director of ODB when Sr. Josanna left. When he took over the program, the people involved all felt that ODB was a short-term response to a hunger issue and that the program would not be needed for long.
"It's incredible how the issues have become much larger today, though food is still part of the problem. Even while I was still there [at ODBEC]," Angelo remembered, "I became aware of the working poor's inability to afford healthy food. I saw people coming in wearing hard hats, so I knew they were working and on their lunch breaks, trying to find ways to stretch their paychecks. We never saw that in the early days. Reducing poverty and ending homelessness have become more important parts of the big picture."
Our Daily Bread outgrew its first location and moved to a temporary location for a short time while a new facility was prepared at the corner of Franklin and Cathedral Streets. It remained at that location until 2007.