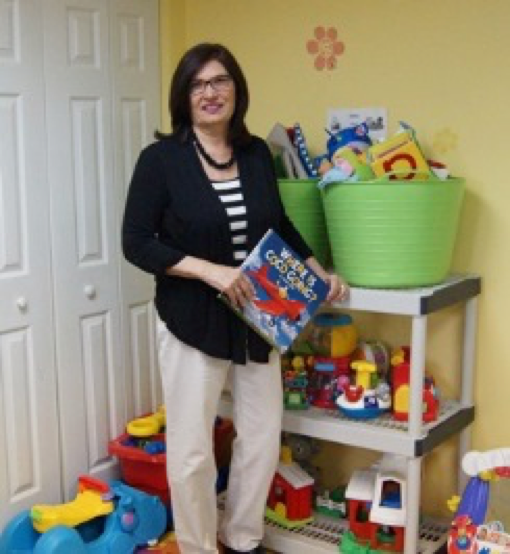 For Karen Bender, volunteer service and career occupy parallel tracks; she works as both an occupational therapist at a hospital in Harford County and also as a substitute teacher at the Children's Christian Center in Bel Air. Karen also spends much of her free time volunteering with the children at Catholic Charities' Anna's House in Bel Air.
For the past four years, Karen has spent most of her Monday and Thursday evenings as the lead volunteer in the child center at Anna's House, caring for the children as their mothers receive life skills training. While the child center provides care for children from birth through age 16, Karen spends most of her time with toddlers and preschoolers, playing games, singing songs and doing arts and crafts.
Older children at Anna's House also get special attention. One of Karen's favorite activities is enjoying "spa nights" with the teenage girls. "This is my way to interact with children again now that my own children are grown," she said. "It's such a fun way to give back."
Volunteering to work with children is an engrained habit for Karen. As a pre-teen, Karen got involved with a Head Start program in her native Hamburg, Pennsylvania, and she has done volunteer work with children ever since.
Finding Anna's House was fortuitous. "I was looking for volunteer opportunities, so I attended the Harford County Volunteer Expo, and that's where I met Cindy Hanley (the volunteer manager at Anna's House)." After learning about the types of volunteer work available at Anna's House, Karen was sold.
In her role as lead volunteer, Karen is in charge of the other volunteers who work with her; many are students from local high schools who come to Anna's House as part of their service learning requirement. "I kind of feel that I'm mentoring them and helping them learn leadership skills," she said.
"Karen is dedicated to serving our children and mothers and has been exceptional," said Cynthia Wood, the director of Anna's House. "Her wisdom and caring heart are amazing blessings to Anna's House."
As Karen spoke about the clients she's worked with at Anna's House, she relates one story that had a particular impact on her. As she held a photo of three children dressed up as pirates, she talked about one, Kevin, who emigrated from West Africa with his mother. "She was just so devoted to doing what was best for Kevin. Her whole life and focus was to provide for him," Karen said. "She worked very hard to establish herself, she got a part-time job and enrolled Kevin in a preschool program. She knew the value of education."
Success stories like this energize Karen, who happily reported that Kevin and his mother were able to transition into a stable life, with permanent housing in the community and eventually U.S. citizenship.
Besides work and her volunteer activities, Karen is a devoted caregiver to her family. Both her husband and father have had major health challenges in the past year, her father diagnosed with prostate cancer and her husband with lymphoma. While Karen reported that her husband is responding well to treatment, she recently had to take a leave of absence from Anna's House to help care for her father after he was admitted to hospice care; he passed away on December 9.
Karen teared up as she talked about these challenges and how it inspires her commitment to help others. "You only have so much time in your life," she said, "and when it's over you want to make some type of mark in this world."
ANNA'S GUYS: Mentoring and friendship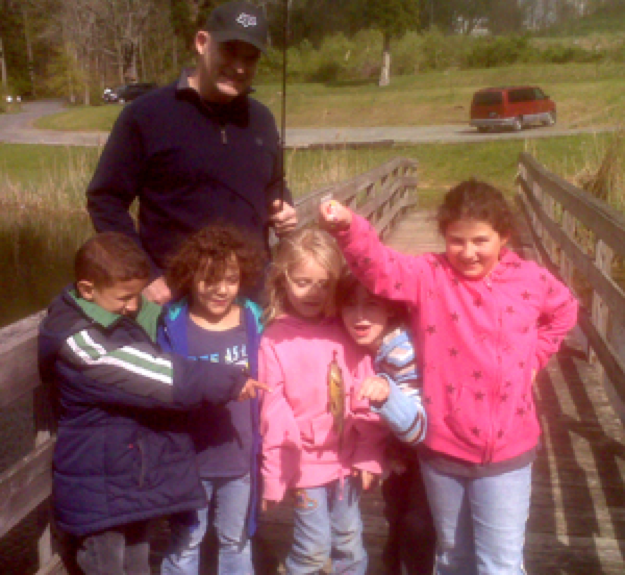 It has always been the good fortune of Anna's House to have great friends and excellent partnerships within the community. One such friend is Rod Bourn and his group who call themselves, "Anna's Guys."
With an interest in helping children who have been displaced from their relatives, neighborhoods, friends, and schools because of homelessness, Rod decided to institute a program where his business friends and the children of Anna's House could interact and learn from one another.
"I love working with children," says Rod, "I believe that by spending lots of time with them and showing them opportunities in life, along with respect and tolerance, we can help them grow into better people with better futures."
Working closely with the staff of Anna's House, Rod devised a plan to recruit businessmen in the community to serve as positive male role models in the lives of the children living at Anna's House. "There was a need for positive male role models for our children, many of whom do not have that in their lives," says Cindy Hanley, Development and Volunteer Coordinator at Anna's House.
Since November 2008, Anna's Guys has grown to include twenty men, who take turns spending either a Wednesday evening or a Saturday afternoon with Anna's House children over 5 years old. Many of the men have brought their own family members with them, so there is a larger pool of people the children are getting to meet and know.
Anna's Guys and the children enjoy playing games, going on nature walks, and taking field trips, which have included Orioles and Iron Birds baseball games, visits to the train museum, Baltimore Zoo, Chuck E. Cheese, local parks, and most recently a fishing trip.
The children love the interaction and value the time spent with the mentors. "It amazes me how much these kids seem to like the program; every time I'm there they're excited to see us and ready to play," says Rod.
The staff, mothers, and children of Anna's House owe a debt of gratitude to Rod and the many men who have taken their time to make a difference in the life of a homeless child. "I don't know where my son would be without Anna's Guys. These are men who take time away from their families to dedicate time to my son," said Anna's House resident, Tammy.
Anna's House offers transitional and permanent housing for homeless women and their children in Harford County. Families find a safe environment in which to live at Anna's House, in addition to counseling, career and life skills training, and employment assistance aimed at helping families achieve independence.
For more information about volunteer opportunities with Anna's House, please contact Cindy Hanley at 410-803-1752 or chanley@cc-md.org.