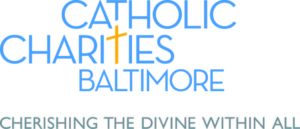 MEDIA ADVISORY, Monday, November 25, 2019
Contact: Rena Daly, rdaly@cc-md.org
Catholic Charities of Baltimore, 667.600.2007

Catholic Charities' Safe Streets provides an early
Thanksgiving dinner to residents of Brooklyn-Curtis Bay
WHAT: Safe Streets of Brooklyn-Curtis Bay will provide an early Thanksgiving dinner on Tuesday, Nov. 26 at the Empowered Church Ministries. Safe Streets of southwest Baltimore will prepare and serve the meal "restaurant / family-style" to all the guests that gather. Special events are vital in allowing Safe Street's to build new ties relationships within a community and to thwart violence before it turns deadly.
WHEN: Tuesday, November 26, 2019 from 3 p.m. – 7 p.m.
WHERE: 433 East Patapsco Avenue, Baltimore, MD. 21225
WHO: Corey Winfield, site director of the Brooklyn-Curtis Bay Safe Streets team along with his colleagues and representatives from Empowered Church Ministries.
BACKGROUND: Catholic Charites opened the Brooklyn Curtis-Bay Safe Streets in June 2019.This is Catholic Charities second Safe Streets site. The first Safe Streets site opened in Sandtown-Winchester in 2015 following the death of Freddie Gray. The Safe Streets program works to earn the trust and respect of the community and its staff, known as Violence Interrupters, intervene confrontations and thwart violence.
About Catholic Charities of Baltimore is Maryland's largest private provider of human services, with more than 80 programs in 200 locations. It serves children and families experiencing homelessness and poverty, individuals with intellectual disabilities, immigrants, and seniors without regard to religion, race or other circumstances. www.cc-md.org.
###