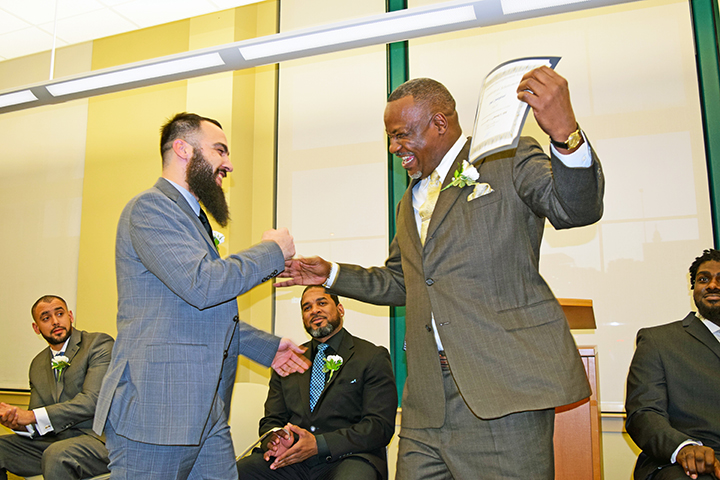 Hadi Sadeghiasl receives his certificate from case manager and Christopher Place graduate Jerry Pryor.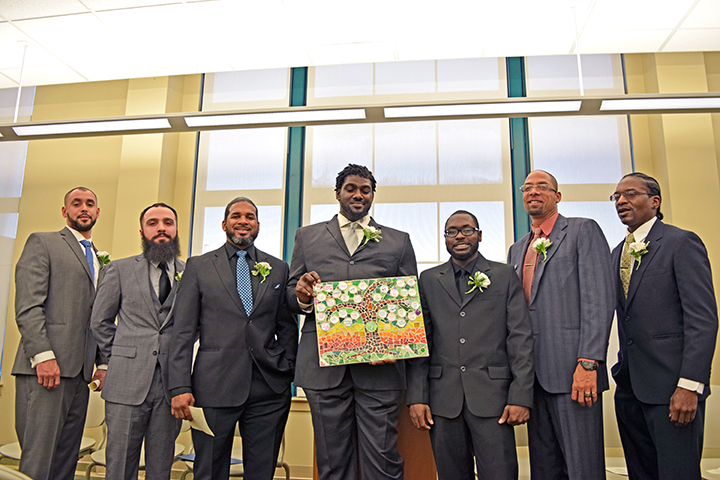 Graduates of the 79th Capstone Class of Christopher Place Employment Academy, including (l-r): Tarrey Saunders, Hadi Sadeghiasl, Vernon Smith, Corey Williams, Qymaine Harden, Dartanian Byrd, and Charles Cole, present a mosaic they created as part of their hands-on learning in Art with a Heart.
Wearing donated three-piece suits before an audience of volunteer teachers and fellow classmates, seven men celebrated the completion of their first three months enrolled in the Christopher Place Employment Academy, a long-term residential program based at Our Daily Bread. It's in this portion that they take an intensive series of educational classes.
All of the men are re-engaging in the community after years in prison, substance use programs, or homelessness.
They range from 27 to 47 years old, and share the common struggle of a complicated life, from being abandoned at the age of 12 to escaping religious persecution in Iran to spending 25 years in prison.
Hadi Sadeghiasl found himself living in a Baltimore shelter after struggling to create a base in the city.
"I wanted to work and take my life back," said Sadeghiasl.
An adviser at Healthcare for the Homeless told him to enroll in Christopher Place at Our Daily Bread Employment Center.
The first three months at Christopher Place, he said, allowed him to "slow down and think before he acts." He also changed his outlook to remain positive thanks to teachers and staff.
He credits that positive outlook with helping him secure a job cleaning floors at Johns Hopkins Hospital.
"It is how you deal with failure – by continuing to try – that leads you to success," Our Daily Bread Employment Center Program Director Lee Martin told the men as they graduated from the three-month education portion of the program.
Repeatedly, the men will tell you that coming to Christopher Place is the best decision they've ever made. For 18 months, they volunteer with Our Daily Bread; participate in classes including computer, math, English, fitness, cooking; attend support groups to manage substance abuse; and receive mental health counseling. They can stay six months more, but the 18-month program prepares them for a lifetime of drug-free self-sufficiency.
For more information, visit cc-md.org/cpea