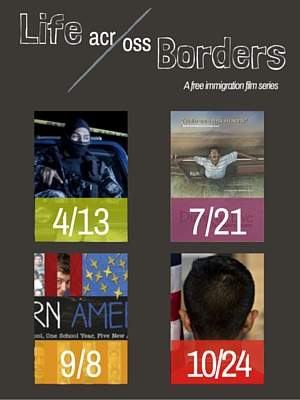 The Esperanza Center is pleased to announce its 2016 Film Series: Life across Borders. Please join us as we screen some excellent documentaries relating to the topic of immigration in the United States.
To RSVP for any of the showings, click here.
---
Schedule:
(To view the schedule poster, click here.)
Wednesday, April 13th, 6:00 pm: Gangs of El Salvador
Thursday, July 21st, 6:00 pm: Dying to Live
Thursday, September 8th, 6:00 pm: I Learn America
Monday, October 24th, 6:00 pm: Immigrant America
---
Pizza, popcorn, and refreshments will be served at each event. A group discussion will follow all of the screenings.
All events are free to the public, and open to everyone.