A 9-year-old, worried about his friends not being able to eat, was the driving force behind a Safe Streets-led initiative to feed families during the COVID-19 crisis.
The day after schools closed across Maryland in response to the COVID-19 pandemic, Safe Streets of Sandtown-Winchester's lead violence interrupter, Nicole Warren, told Site Director Greg Marshburn about her grandson's fears.
"I said, 'Let me see what we can do," recalled Marshburn.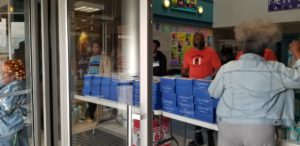 Since then, the team has provided 1,500 meals in the community. By the end of next week, they will have provided 4,000.
The Catholic Charities-run violence prevention and interruption program is working with New Song Academy, a pre-K to 8th grade public school in the heart of Sandtown-Winchester, to distribute the boxed meals at lunchtime.
"This is our community," Marshburn said. "For some of these children, the only time they get to eat is in school. … We need to at least make sure they ate today."
Marshburn reached out to New Song Academy, offering to provide meals as families stopped by the school to pick up packets of work for their children to learn, remotely, at home. The partnership grew, and Marshburn used his Safe Streets budget to buy about 200 boxed lunches per day in the first week.
Each day, Safe Streets staff members have stacked labeled boxes on a table inside New Song Academy. Neighbors file through the school, children first, and pick up a meal. Concerns about COVID-19 have shaped the distribution process.
"We're not handing boxes to them. We're on the perimeter, directing people where to go," Marshburn said. "And whatever they touch, they have to take."
Sustenance is not the only benefit of the distribution. The Safe Streets model depends on the ability of staff to build meaningful, trusting relationships throughout the community that allow them to gauge when conflict is brewing – and help to thwart it.
"We are building a rapport with these individuals, and by feeding them, we're spreading the Safe Streets message," Marshburn said.
Scott Hopewell, the student wholeness specialist at New Song Academy, describes Sandtown-Winchester as a close-knit community where people look after their neighbors, volunteer at the school, and "come with their best, every single day." It is an area where nearly half of all households earn less than $25,000 per year, and median household income is just 54 percent of the city's. Less than half of the population is employed, and a quarter of adults over 25 lack a high school degree.
He said the distributions have been vitally important to the community.
"There is a soup kitchen, but that's not really enough. Some work a part-time job, but it's not enough as is, and now with coronavirus, it's that much worse," he said. "The connection between feeding them and violence interruption is once they come, we can have a conversation with them. It's hard to ask someone to do something if you're not adding value."
Heading into the second week of the distribution, Marshburn increased the number of boxed meals from 200 to 500 per day. He anticipates that the school system's scheduled spring break may decrease the number of sites open for lunchtime meals, and increase the number of people needing to be fed.
In addition, he has personally felt the impact of the distributions.
"It's an honor and a privilege to touch so many people's lives. I've been working with Safe Streets for seven years and I've never felt so fulfilled," he said, adding that for his staff, this has been "all hands on deck – and they love it."