(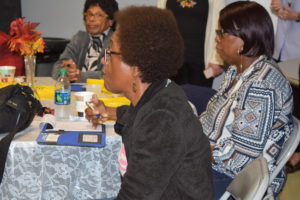 Baltimore, Nov. 7) "I nearly jumped out of my chair when I learned I could get a hearing aid for $80," said an elated Minnie Simmons, who attends Ark Church on E. North Avenue and participated in the Catholic Charities' Senior Connections Community Outreach meeting. Simmons along with 50 other church members attended the outreach to learn about a range of issues from creating a living will to gaining financial assistance for home repairs or protecting themselves against consumer fraud.
In the upcoming months, other houses of worship will host Catholic Charities and 11 partner groups who are presenting the Senior Connections Community Outreach thanks to a generous grant from the Harry and Jeanette Weinberg Foundation.
"This is a one-stop shop of resources for older adults," said Jill Kratz, Catholic Charities manager of Senior Services who works with Catholic Charities' Answers for the Aging Service Coordinator Tyra Williams to plan the presentations. Next meeting is scheduled for Nov. 30 at City of Abraham Church & Ministries in Baltimore City.
Bishop J.L. Carter of the Ark Church urged other houses of worship to participate in the Senior Connections Community Outreach.
"This was incredibly valuable forum," Bishop Carter told his congregants. "Simply put, there's no reason not to have what you need after this session.'"
Catholic Charities and its 11 trusted partner programs in the outreach program plan to host similar sessions at 100 houses of worship throughout Baltimore. If you are interested in hosting the Senior Connections Community Outreach, call 667-600-2281.
To Learn more about Senior Connections Community Outreach click the link: