Safe Streets of Brooklyn Curtis-Bay is collecting school supplies for children and families of Southwest Baltimore, and they need your help.
Supplies can be purchased on-line through the back-to-school Amazon wishlist and delivered to the Safe Streets office at 423 East Patapsco Avenue, Baltimore, MD 21225. The Safe Streets team will distribute the items on at the following locations on Thursday and Friday.
Thursday, August 29, 4:30 – 7 p.m. at the Brooklyn Homes, 4140 10TH St., Balt., MD. 21225
Friday, August 30, 4:30 – 7 p.m. at the Brooklyn Boys and Girls Club, 3560 3rd Street, Brooklyn, MD 21225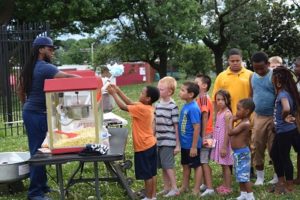 "We want all children and teachers from our community to feel ready and excited to head back to school," said Brooklyn-Curtis Bay Safe Streets Site Director Corey Winfield, who is leading the collection and distribution effort. Community involvement is the core of Safe Streets' work in Brooklyn-Curtis Bay and Sandtown-Winchester. In June 2019, when the Brooklyn-Curtis Bay Safe Streets opened it hosted a festive party for the young people of the neighborhood.