Before the COVID-19 pandemic, college student Karen Sun was an active volunteer at My Sister's Place Women's Center, often supporting onsite workshops. After the pandemic struck, she shifted her volunteer service to coordinating partnerships with other local agencies to provide clients with as many resources as possible, including legal support.
Now, Catholic Charities is honoring Sun with The Anne Lindsey Otenasek Youth Service Award for her nearly four years of service to women and children experiencing homelessness and poverty in Baltimore. The 2020 Johns Hopkins University graduate said she was moved both by the clients' resilience and by the commitment of the staff.
"I am incredibly grateful for the opportunity to serve the resilient and kind women that visit the center, and who have had the strength to overcome many difficult obstacles in life. I am constantly inspired by their courage, dedication, passion, and optimism and I'm forever grateful for their willingness to allow me to be a part of their journey," said Sun. "The persistent determination of the staff at My Sister's Place Women's Center to offer these women support while advocating for their needs during the pandemic is very uplifting and motivates me to try to help in whatever way possible."
Preparing for life-long advocacy
In addition to caring for clients, Sun carried out projects to lift the spirits of frontline workers, by coordinating the delivery of care cards handcrafted by her fellow Johns Hopkins students.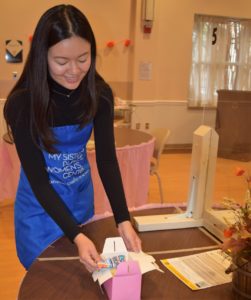 "The wonderful women I have met at My Sister's Place have taught me to always listen and engage diverse perspectives, and I hope to continue supporting them as well as other resilient women in the future," said the 23-year-old. "I aspire to be a life-long advocate of social justice to combat inequities and move us forward into a more just society."
This award is in memory of Anne Lindsey Otenasek, an energetic teenaged Catholic Charities volunteer who died in the bombing of Pan Am flight 103 over Lockerbie, Scotland, in 1988. The youth service award in her name honors and perpetuates her spirit and personal commitment to helping others. It is given to a high school or college individual or group that shows outstanding volunteer commitment to Catholic Charities.
Sun is one of three exemplary area servants Catholic Charities will recognize the week of November 8-12. The other two pillars of the community are: St. Vincent de Paul Catholic Church Pastor Rev. Ray Chase, whose 43-year ministry with Catholic Charities has included many roles; and Geri Olsen, who will receive the Distinguished Service Award for her 27 years of service to the residents and staff of St. Vincent's Villa.