The daily routine for a person experiencing homelessness can be consumed by ensuring that their basic needs of food, water, warmth and rest then security and safety are being met.

At My Sister's Place Women's Center, we recognize that stress but work to lighten that load by offering many wrap-around services to move them beyond these daily struggles and find a purposeful, fulfilling and safe life.
Let's follow one of our program participants through a day:
7 a.m.: My Sister's Place day room opens for all women and their children
7:30 a.m.: Breakfast in the dining hall: eggs, sausage, fruit, coffee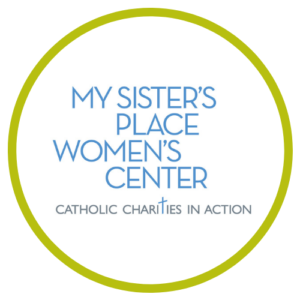 8:30 a.m.: Signed up to see case manager and waited for my turn
9:30 a.m. Case manager told me where to sign up for a bed, how to get new ID, how to sign up for substance abuse treatment – I am a little nervous about it, but she encouraged me to give it a chance.
10:30 a.m.: My turn for a shower! Program assistants gave me toiletries, a towel, and some new clothes to wear.
11 a.m.: Art therapy – prepared my pieces for our art showcase
Noon: Lunch made by volunteers: meatloaf, veggies, and a cookie
1 p.m.: Resume-building workshop – learned about Learn 2 Earn professional internship programs. Thinking of joining…
2 p.m.: Meeting with my behavioral health services therapist; I always feel better after talking to her.
2:45 p.m.: Picked up my mail at the front desk (we can have mail delivered here); got paperwork needed for assistance – finally!
3:30 p.m.: Caught the bus to line up for shelter bed – some ladies are leaving as early as noon because of bed scarcity. I hope I am not too late.
MAKE AN IMPACT: E-MAIL VOLUNTEERMSPWC@CC-MD.ORG